November 7, 2023 0 Comments Beach Tips, Best Beaches in The World
What are the Best Beaches in Lithuania?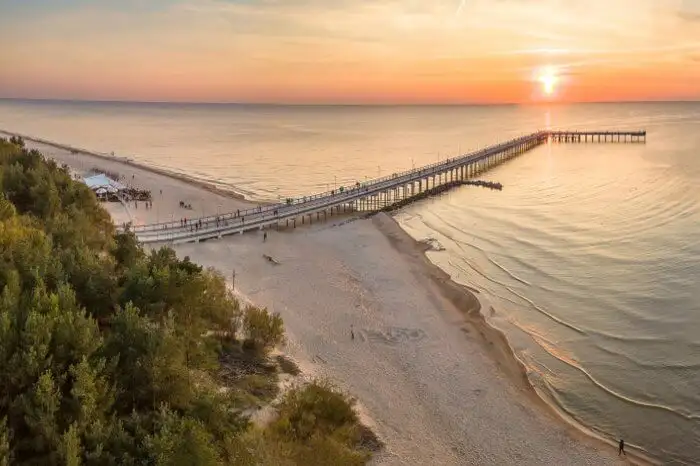 Lithuania may not be the first place that comes to mind when thinking of beach vacations, but this Baltic country actually has some beautiful sandy shores along its coastline. Though Lithuania has just 65 miles of coastline, there are plenty of great beaches to explore. Here are some of the best beaches in Lithuania worth checking out on your next visit.
Palanga Beach
Palanga Beach is considered Lithuania's most popular seaside resort destination. The nearly 2-mile-long golden sand beach fronts the lively town of Palanga, which has a fun boardwalk, restaurants, and lots of activity during the summer months. Swimming and sunbathing are popular activities here, and there are zones for watersports like windsurfing as well. Beach chairs and parasols can be rented, and there are a number of beachfront hotels and cafes. It's a great beach option for those looking for an active resort beach atmosphere.
Nida Beach 
Located on the Curonian Spit peninsula in western Lithuania, Nida Beach feels more remote with its pristine sand dunes backing up to pine forest. The relatively calm beach has fine golden sand and a pretty blue flag marina backdrop. It stretches over two miles from the edge of Nida town to the Lithuanian border with Russia. Beachgoers can rent pedal boats, catamarans, or try their hand at kiteboarding on Nida Beach. The water is quite chilly, even midsummer, but the sweeping views of the Curonian Lagoon are sensational.
Juodkrantė Beach
Another lovely beach along the Curonian Spit coastline is Juodkrantė Beach. This 2-mile long beach is backed by sweet little blueberry-colored wooden homes, evoking a real sense of a beach town. The sand is very fine and clean, and slopes gently into the bay making it quite family friendly. Lithuania's highest sand dune, the Parnidis Dune, can be climbed via wooden stairs behind the beach providing epic panoramic views. After a day at the beach, check out the Amber Gallery and Museum in town.
Smiltynė Beach
Located on the northern tip of the Curonian Spit, Smiltynė Beach sees some strong winds which attract kite surfers and windsurfers. Its location across the lagoon from Klaipėda allows nice views looking back at the city across the water. The harbor wall creates a calm zone for swimming and sunbathing. There is also a little aquarium housed in the 19th-century battery fort nearby, displaying species found in the Baltic Sea. Nearby restaurants and hotels round out the amenities.
Karklė Beach
For those looking for a quieter, more natural beach experience on the Curonian Spit, head to Karklė Beach. As it is harder to access down bumpy forest roads, Karklė Beach remains mainly frequented by locals. The beautiful crescent-shaped golden beach lacks major development like hotels or restaurants, giving it a touch of seclusion. Protected natural dunes soar up to 65 feet behind the shoreline. The forested hillsides surrounding Karklė give it a hidden paradise vibe.
Booking Travel to Lithuania
There are no direct flights to Lithuania from the US, but it's a great place to visit while exploring Europe. US citizens don't need a Lithuania visa if they stay for less than 90 days.
With beaches that range from remote to happening, Lithuania has something to suit all interests.
---