October 2, 2023 0 Comments Best Beaches in The World, Destinations
Pangandaran Surf Beach Guide
Nestled on the southern coast of Java in Indonesia, Pangandaran surf offers an irresistible allure to surfing enthusiasts worldwide. Its exposure to the roaring swells of the Indian Ocean, coupled with its extensive, peak-dotted beach, makes it a surfing paradise accommodating surfers of all skill levels. This guide offers an elaborate look into Pangandaran surf, from its geographical location to its surfing conditions, and everything in between.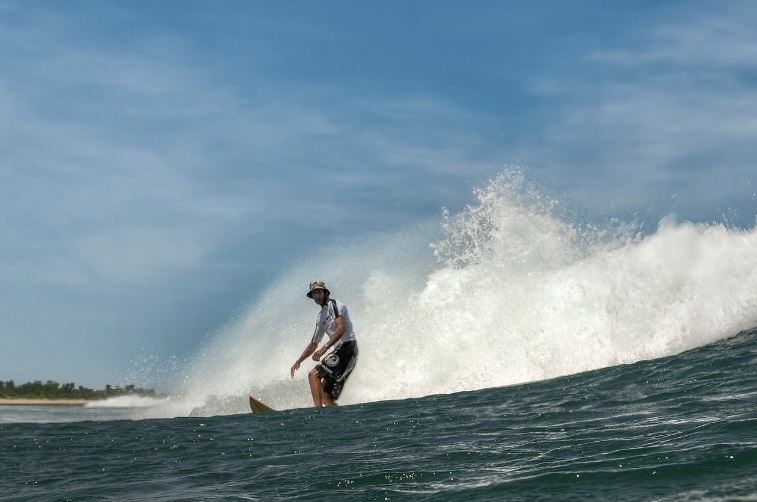 The Pros and Cons of Surfing at Pangandaran
The Pros:
Waves cater to all skill levels

Ideal for beginners

Relatively accessible from Jakarta
The Cons:
Not the cleanest water

Waves can sometimes lack shape
Locating Pangandaran
Pangandaran occupies a scythe-shaped bay along Java Island's southern coast in central Indonesia. It's part of the West Java region, approximately seven hours from Jakarta, the capital city. Cilacap, the closest major town, lies just beyond the eastern headland.
Pangandaran surf has risen in popularity due to its long beachfront stretching about five miles, offering endless peaks for all levels. The town also serves as a gateway to Batu Karas, another beach option in south-Java. We explore both below:
Batu Karas
At Batu Karas, located at the far western end of Pangandaran, there are two main breaks—a gentle point for beginners and longboarders, and a more shapely reef with a right shoulder demanding larger swells. While Batu Karas is a little far from Pangandaran for regular day trips, it's a charming and tranquil surf destination in its own right.
Pangandaran Beach
Though Pangandaran Beach is the primary spot in Pangandaran, it's more like a hundred spots rolled into one. This beach stretches for over five miles, offering individual peaks and sandbar waves throughout. The waves grow more intense towards the bay's middle, with smaller waves for beginners clustered near the sand's bend as it joins the jungles at the isthmus's end.
Accommodation Choice while Surfing in Pangandaran
Though Pangandaran may not be on the usual tourist trail for south Java, it offers some decent accommodation options for surfers:
Yokima Beach Hotel
Yokima Beach Hotel is just a stone's throw away from Pangandaran Beach. It offers simple yet comfortable rooms with air conditioning and flat-screen TVs.
Jelajah Batukaras
Jelajah Batukaras is situated at the far western end of the beach, near the beginner-friendly point break of Batu Karas. It's a basic yet charming accommodation option with great beach access.
Fidigri Homestay
Fidigri Homestay offers a unique experience. You'll stay with a local Javanese family and enjoy a home-cooked Asian breakfast each morning.
Planning Your Pangandaran Surf Trip
Step One: Book flights to Pangandaran surf. 
Step Two: Book your surf camp. 
Step Three: Get insurance. We recommend
Step Four (Optional): Rent a car. 
Step Five: Enjoy!
Best Time to Surf in Pangandaran
Pangandaran surf is best experienced in the dry season, like most of Indo, taking advantage of S-SW swells from the Indian Ocean. But the beach break's shape from the sandbars also allows for good days in the wet season on E-SE swell directions. The April-October offshore winds can add more length to the peaks on the bay's west end.
Other Things to do in Pangandaran Beach Besides Surfing
Apart from surfing, Pangandaran beach presents an array of activities and attractions for visitors. A popular spot is Batu Hiu Beach, a natural tourist attraction offering a serene environment for relaxation and nature appreciation. As the sun sets, Pangandaran West Coast becomes a hub for those who love to watch the breathtaking view of the sunset. Furthermore, you can explore various parks, landmarks, and points of interest in Pangandaran that reflect its local culture and lifestyle. If you're interested in business or more urban attractions, the city also boasts various business districts.
---