June 28, 2023 0 Comments Best Beaches in The World, Destinations
Closest Beach to Me: A Guide to The Closest Beaches near Atlanta GA
Beautiful Atlanta is a a green, vibrant city filled with history, culture, and southern charm. However, there is one thing missing — the beach! If you're in Atlanta and longing for the feel of sand between your toes and the sound of waves crashing on the shoreline, you're likely thinking, "Where is the closest beach to me?"
The good news is, there are numerous beautiful beaches near Atlanta, each offering a unique and entertaining beach experience. From the tranquil islands of Georgia to the lively shores of Florida, Alabama, South Carolina, and North Carolina, you have plenty of options to choose from.
In this article, we'll explore the closest beach to Atlanta, Georgia, and highlight several other beaches near me for those in the Atlanta area including the Atlantic coast and the gulf coast. Let's dive in!
Georgia's Coastline: Closest Beach to Atlanta
Georgia's coastline may not be the first thing that comes to mind when you think of beach vacations, but it should not be overlooked. The Peach State offers some stunning and unique beach destinations.
Tybee Island: Savannah's Beach
Tybee Island is often referred to as Savannah's beach due to its close proximity to the city. This coastal gem is approximately 3.5 hours or 250 miles from Atlanta, making it the closest beach to Atlanta. It's an ideal spot for quick getaways and offers a laid-back atmosphere perfect for relaxation.
On Tybee Island, you can enjoy the sandy shoreline, go on a tour of the marshes pristine beaches and waterways with Sea Kayak Georgia, or savor fresh seafood at the Crab Shack.
This charming island offers a laid-back atmosphere that lends itself perfectly to relaxation and rejuvenation. Visitors can immerse themselves in the tranquility of the sandy shores, where the rhythmic ebb and flow of the waves create a serene soundtrack for leisurely walks or sunbathing.
For the more adventurous, Sea Kayak Georgia provides guided tours of the island's marshes and waterways. These tours are a fantastic opportunity to experience the island's natural beauty up close and observe the diverse coastal wildlife in their natural habitats.
When it comes to dining, the Crab Shack is an absolute must-visit. This local favorite serves up an array of fresh seafood dishes caught straight from the local waters, offering a taste of the sea that's as fresh as it gets. In essence, Tybee Island is more than just Savannah's top beach destination – it's a haven of natural beauty, recreational activities, and culinary delights, making it a perfect beach getaway.
St. Simon's Island: A Personal Favorite
St. Simon's Island is one of the many beautiful Georgia beaches. This island is the place to be if you want to experience the St. Simon's Island beach. Enjoy the beautiful view of the ocean from the main pool at The King and Prince, the only oceanside restaurant on the barrier island here.
Take a stroll down the fishing pier, explore the shops, or look out for dolphins. For accommodation options, consider The King and Prince Golf & Beach Resort.
Sea Island: Luxury and Southern Charm
Sea Island houses some of the most luxurious beaches in Georgia. The Cloister at Sea Island offers family-friendly amenities and is a favorite spot for honeymooners. Some of the highlights include the Beach Club at Sea Island and beachside bars.
For those who crave a blend of opulence and traditional grace, Sea Island is a perfect sanctuary. The locale's sandy shores aren't just breathtaking, but they also serve as an emblem of Georgia's high-end coastal life. The Cloister's appeal extends beyond its family-friendly facilities; it's a romantic haven, enticing newlyweds with its enchanting seaside vistas and intimate ambiance.
The Beach Club is a gem, offering guests a chance to unwind and soak in the natural beauty that surrounds them. The beachside bars add a vibrant, energetic touch to the serene landscape, making it an ultimate paradise for all types of travelers. However, luxury isn't just limited to the high-end spender.
The Inn at Sea Island caters to those seeking a more affordable yet equally captivating experience. Here, guests can enjoy the same southern charm and beachside bliss without breaking the bank. Each accommodation option on Sea Island harmoniously blends comfort, luxury, and unforgettable southern hospitality.
Florida's Sunny Shores: A Beach-Lover's Paradise
Florida is home to some of the best beaches in the US. From the bustling Jacksonville Beach to the serene Grayton Beach, Florida offers a beach experience for everyone and North Florida beaches near Atlanta GA are some of the nicest beaches.
Avoid spring break in the northern Florida beaches unless that's what you're looking for. It will be very crowded and full of young kids running a muck
Jacksonville Beach: A Blend of Fun and Adventure
Jacksonville Beach is located just south of the Georgia/Florida border. This beach city offers exciting water sports, sunset cruises, a three-story wooden go-kart track, and much more than just great ocean beaches. For accommodation, consider Hampton Inn Oceanfront Jacksonville Beach among many of the other great hotels on offer.
The hotel presents stunning views of the Atlantic Ocean from its rooms and is situated conveniently close to the bustling beach. For foodies, the Salt Life Food Shack offers a diverse menu of seafood, tropical drinks, and an unforgettable beachfront dining experience.
The Jacksonville Beach Fishing Pier, stretching nearly a quarter-mile into the ocean, is a must-visit for fishing enthusiasts and those seeking panoramic seaside views. Furthermore, the Adventure Landing, with its water park, arcade, and mini golf, provides a fun-filled day for the whole family. Jacksonville Beach is indeed an exceptional mix of relaxation and adventure.
Tampa Beaches: A Flight Away
Tampa, Florida, is slightly over six hours from Atlanta, but it's worth the trip. The city is home to several lovely beaches, including Clearwater Beach and Ben T. Davis public beach. For accommodation, consider Clearwater Beach Marriott Suites on Sand Key.
South Carolina's Coastal Treasures
South Carolina's coastline is mostly white sand beaches dotted with charming beach towns. From the natural beauty of Daufuskie Island to the the historic city of Charleston, South Carolina offers a variety of beach experiences.
Daufuskie Island: A Boat Ride Away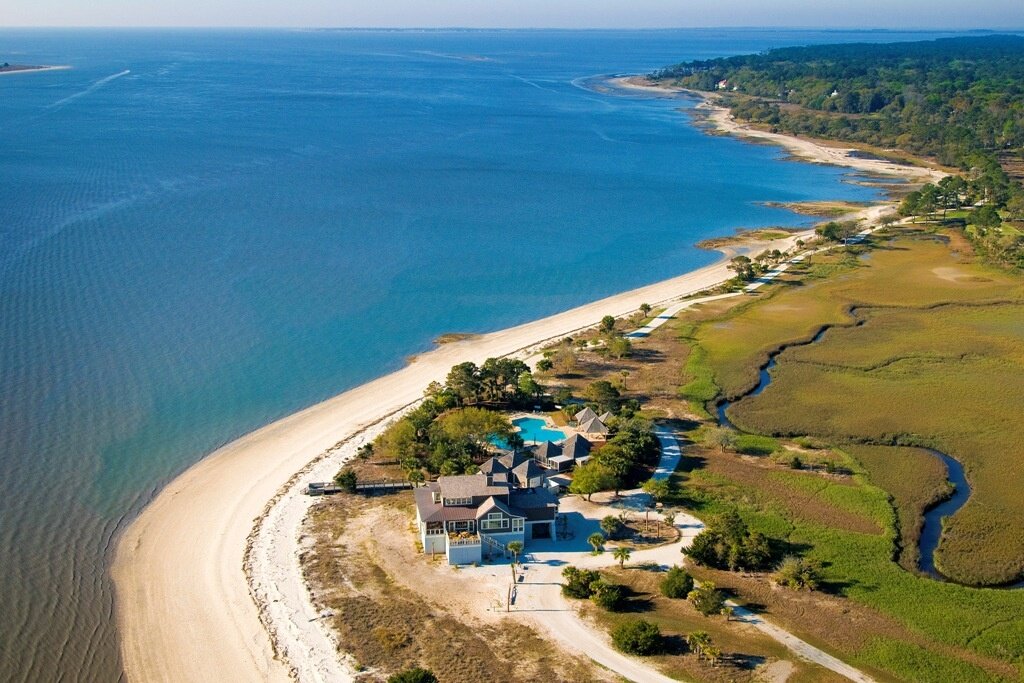 Daufuskie Island is just a mile from Hilton Head and offers a unique beach experience. This island is only accessible by boat and offers stunning wildlife, bike riding, boat tours, and more. For accommodation, consider Seaside Villa Oceanfront Penthouse.
Charleston Beaches: A City and Sand Vacation
Charleston, South Carolina, offers a unique blend of city and beach vacation. The city is home to five beach towns, each offering a unique beach experience. For accommodation, consider The Cottages on Charleston Harbor.
Alabama's Gulf Shores: A Southern Gem
Gulf Shores and Orange Beach combine to make beach resorts that offer 32 miles of white sandy shoreline. From water recreation to fresh seafood and family fun, Gulf Shores has plenty to offer. For accommodation, consider The Beach Club Resort & Spa.
North Carolina's Island Beaches: An Adventure Awaits
North Carolina's island beaches offer a unique beach experience. From the historic Wilmington to the adventurous Outer Banks, North Carolina's beaches are a must-visit.
Outer Banks Beaches: An Escape to Nature
The beaches of The Outer Banks offer a unique beach experience. Enjoy hang gliding lessons, horseback riding on the beaches, or simply soak up the sun. For accommodation, consider Outer Banks Beach Club.
Wilmington's Beaches: A Blend of History and Nature
Three island beaches call the historic Southern city of Wilmington home. From family-friendly Carolina Beach to the relaxed Kure Beach, Wilmington offers something for everyone. For accommodation, consider Holiday Inn Resort Wrightsville Beach-Wilmington.
Mississippi's Gulf Beaches: Worth the Journey
The Mississippi Gulf Coast, situated about a 6-hour journey from Atlanta, offers beautiful white sandy beaches and plenty of fun in the sun. For accommodation, consider Gulf Hills Hotel & Retreat on the Water and Conference Center.
The Mississippi Gulf Coast, a scenic 6-hour drive from Atlanta, is a haven for beach lovers. This picturesque coastline, stretching for about 62 miles, is a go-to destination for those seeking a sun-drenched retreat. The beaches, adorned with pristine white sand, offer a serene yet invigorating ambiance that can instantly transform your mood.
As you soak up the sun, the gentle sound of the ocean waves, and the refreshing sea breeze create an idyllic setting for relaxation. The area is also a hotspot for various water-based activities such as fishing, boating, and swimming, making it a perfect getaway for adventure enthusiasts.
When it comes to lodging, the Gulf Hills Hotel & Retreat on the Water is a fantastic choice. This hotel offers a unique blend of comfort, leisure, and scenic beauty. It perfectly complements the coastal vibe with its waterfront location. For those looking for a venue to hold meetings or conferences, their fully equipped Conference Center is an added advantage.
In essence, Mississippi's Gulf Beaches are indeed worth the journey. Their captivating beauty, coupled with the range of available activities and accommodation options like the Gulf Hills Hotel & Retreat, make this destination a must-visit.
Atlanta's Beaches: When You Can't Leave the City
If you're in Atlanta and can't make a quick getaway to swimming beach, there are several lake beaches in the city. These include the Beach at International Park and the beaches at Callaway Gardens, Lake Lanier Resort, and other area lakes.
When the hustle and bustle of Atlanta's city life gets a bit too overwhelming, and you can't quite squeeze in the time for a coastal escape, fret not. Atlanta, despite being landlocked, offers a surprising array of idyllic lake beaches within its city limits that are perfect for a quick reprieve.
Among the top contenders is the Beach at International Park, fondly known as "Atlanta's Beach." This hidden gem, tucked away in Jonesboro, spans a sprawling 6,000 square feet of sandy expanse, offering visitors a chance to unwind under the sun, build sandcastles, or delve into a good book. It's also equipped with a water park that boasts a wave pool, waterslides, and a kids' area – a perfect family-friendly retreat.
Callaway Gardens, situated on the edge of Atlanta, is another haven for beach-lovers trapped within the city. This man-made beach borders a 175-acre lake, surrounded by lush gardens and greenery. The beach is a part of a larger resort that includes a butterfly house, golf courses, and biking trails – making it perfect for a day filled with leisure and adventure.
Then there's the renowned Lake Lanier Resort, home to one of Atlanta's best lake beaches. Its white sandy beach stretches along the azure waters, offering stunning views and a variety of recreational activities. You can spend your day swimming, sunbathing, or partaking in water sports. The resort also hosts regular events and concerts, adding a dash of vibrancy to the serene setting.
Atlanta's lake beaches offer a unique blend of tranquility and recreation, providing city-dwellers with a much-needed escape without stepping too far from the city's heart. So, when the call of the beach becomes too strong to ignore, remember that Atlanta's got you covered.
Wrap up on the closest beach to me
Whether you're looking for a quick day trip or a week-long vacation, there's a beach near Atlanta that's perfect for you. So pack your bags, grab your sunscreen, and head to the closest beach to me for some fun in the sun. Your beach adventure awaits! Happy Travels!
---