June 23, 2023 0 Comments Best Beaches in The World
10 of The Best Beaches Near Savannah Georgia!
If you find yourself in the charming city of Savannah, you might be tempted to explore the breathtaking beaches close to Savannah Georgia. The region is peppered with a variety of sandy shores, each offering a unique blend of natural beauty, recreational activities, and cultural heritage.
So, whether you're a water sports enthusiast, a nature lover, or a history buff discovering downtown Savannah, the best beaches anywhere near Savannah Georgia have something for everyone.
In this article, we'll embark on a virtual tour of the top-notch beaches close to Savannah Georgia. We'll dive into the unique offerings of each beach, from their stunning landscapes to the recreational activities they offer. So, grab your sunscreen and beach towel as we embark on this oceanic adventure!
1. Tybee Island: A Stone's Throw from Savannah
One of the most popular Savannah beach destinations, Tybee Island, is just a short 20-minute drive from the city center. This barrier island is a haven of sandy beaches and unspoiled habitats for an array of marine life, including sea turtles, endangered birds, and playful dolphins.
South Beach: The Heart of Tybee Island
South Beach, the most bustling beach on Tybee Island, is a hotspot for both locals of tybee island beach and tourists. This area is teeming with shops, bars, surf shops and restaurants, making it an ideal location for those looking for a lively beach experience.
North Beach: A Historic Treasure
For those interested in history, North Beach offers a unique blend of scenic beauty and historical sites. Here, you can visit the historic lighthouse at Tybee Island Lighthouse and the Fort Pulaski National Monument, making it a perfect blend of beach fun and a history lesson.
Mid Beach: The Serene Getaway
If you're seeking peace and tranquility, Mid Beach, located centrally on the island, offers a quieter alternative to South Beach. With its family-friendly atmosphere and easy access to various island amenities, Mid Beach is a must-visit for families and those seeking a tranquil escape.
2. Jekyll Island: A Blend of Natural and Historical Wonders
Located just two hours south of Savannah, Jekyll Island is one of Georgia's beloved Golden Isles. The island boasts miles of pristine beaches, diverse wildlife, and clear waters, making it a perfect destination for beach lovers and wildlife enthusiasts alike.
Driftwood Beach: A Photographer's Paradise
Driftwood Beach, with its landscape filled with weathered and bleached trees, is a photographer's dream. The unique scenery offers countless opportunities for stunning photos, making it a must-visit for photography enthusiasts.
Historic Landmarks: A Peek into the Past
Jekyll Island is also steeped in history. Once a winter retreat for some of America's wealthiest families, you can explore historical landmarks like the Dungeness Ruins and the Plum Orchard Mansion to get a glimpse of the lavish lifestyles of yesteryears.
3. St. Simons Island: A Dose of Adventure and Relaxation
Another gem among the Golden Isles, St. Simons Island, offers both beach access and an array of recreational activities. From sunbathing and picnicking on the beach to fishing, surfing, and swimming, St. Simons Island is an adventure lover's paradise.
Massengale Park Beach: A Family Delight
Massengale Park Beach is a popular spot for families, offering lifeguarded swimming, picnic areas, and a host of nearby facilities. It's an ideal location for a fun-filled family day out.
Coast Guard Station Beach: A Blend of History and Leisure
The Coast Guard Station Beach, with its historic Coast Guard station and a beautiful beach, offers a unique blend of history and leisure. The area is perfect for sunbathing, swimming, or simply relaxing by the shore.
4. Little Tybee Island: An Undiscovered Paradise
Hidden away from the usual tourist hustle-bustle, Little Tybee Island is a gem waiting to be discovered. This unspoiled natural haven, located off the coast of Georgia, is an uninhabited nature reserve that provides a tranquil escape from the mundane. The island's secluded location makes it accessible only by boat, adding to its allure and charm.
Stretching across acres of untouched land, the island's pristine beaches are a sight to behold. Here, the golden sands meet the rolling waves of the azure waters, creating a picturesque setting that's a feast for the eyes. The salt marshes, a distinct characteristic of the island, house a diverse range of marine life, offering an incredible opportunity for wildlife spotting.
Moreover, the subtropical forests that envelope the island are a paradise for nature enthusiasts. The verdant canopy is home to numerous species of birds and animals, and the forest's tranquil ambiance provides a serene backdrop for those looking to unwind amidst nature.
Little Tybee Island is more than just a destination; it's an experience. It gives visitors a unique chance to connect with nature in its purest form, away from the trappings of modern life. Whether it's beachcombing along the deserted shores, exploring the diverse ecosystems of the salt marshes, or simply soaking up the tranquility of the forest, Little Tybee Island offers an unforgettable journey into the heart of nature's untouched beauty.
5. Hilton Head Island: A World-Class Destination
Just over two miles south the border in South Carolina, Hilton Head Island is a world-renowned beach destination. With miles of sandy beaches and top-notch golf courses, Hilton Head Island offers a luxurious beach experience for visitors.
Hilton Head Island is a remarkable destination that blends the serenity of untouched natural beauty with world-class amenities. With its sprawling sandy beaches that stretch as far as the eye can see, it is a paradise for beach lovers.
The lapping waves provide a soothing soundtrack for relaxation, while the sun-kissed sand is perfect for a leisurely stroll or a fun-filled day of building sandcastles. But Hilton Head is more than just a beach destination. It's also a golfers' haven, with elite golf courses that attract enthusiasts from around the globe.
These beautifully manicured greens offer a challenging yet enjoyable experience, making Hilton Head Island a compelling destination for both relaxation and recreation. From its stunning landscapes to its premier facilities, Hilton Head Island truly offers a world-class beach getaway here.
Coligny Beach: The Island's Crown Jewel
Coligny Beach, often referred to as the Island's Crown Jewel, is a stunning coastal sanctuary that provides an inviting mix of natural beauty and recreational activities. It's one of the prized possessions of Hilton Head Island and a must-visit destination for locals and tourists alike.
This idyllic beach is a haven for water enthusiasts. Its calm, clear waters make it an excellent choice for swimming, while the expansive shoreline presents ample opportunities for boating and paddleboarding. Safety is a priority at Coligny Beach, with lifeguards consistently monitoring the area, providing a secure environment for families and solo visitors.
Beyond its natural allure, Coligny Beach also boasts a vibrant commercial scene. A variety of food stalls dot the area, offering delectable seafood and other local delicacies that cater to different palates. Shops offering beach essentials, souvenirs, and local crafts are also within easy reach, adding convenience and enhancing the overall beach experience.
In essence, Coligny Beach stands as a testament to the Island's dedication to preserving its natural beauty while offering world-class amenities. It's indeed the Island's Crown Jewel – a perfect blend of serenity, excitement, and charm.
6. Wassaw Island: A Wildlife Haven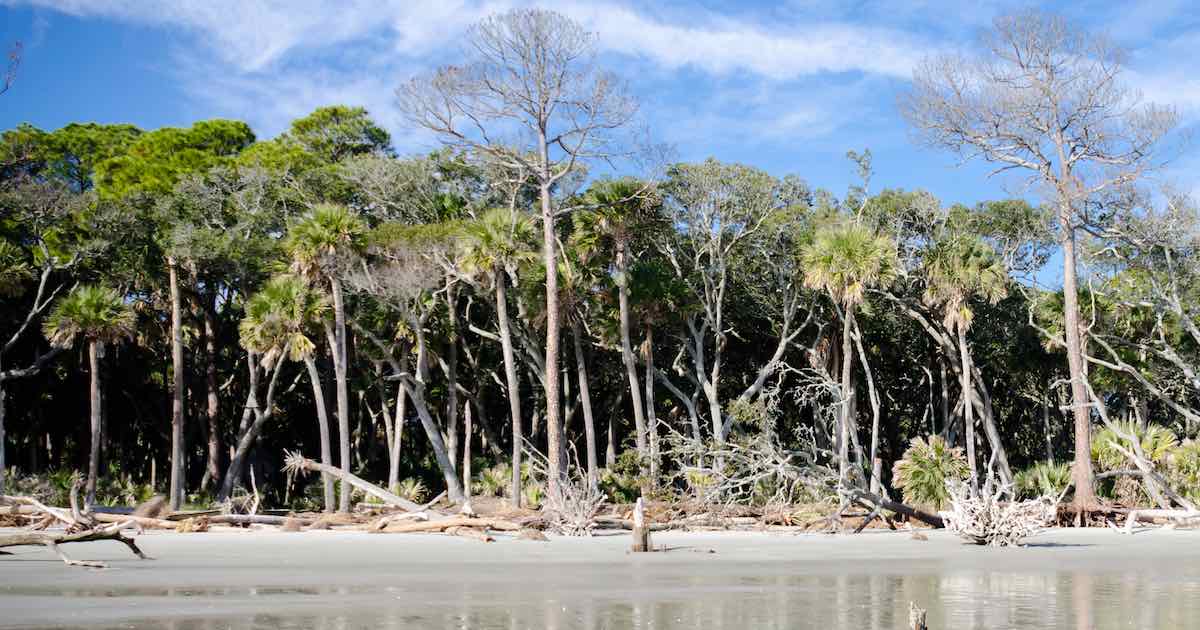 A National Wildlife Refuge, Wassaw Island is a natural paradise. With sandy beaches surrounded by maritime forests, it offers a serene setting for wildlife viewing, relaxation, and beachcombing.
Just off the coast of Savannah, Georgia, Wassaw Island is a picturesque National Wildlife Refuge. This untouched sanctuary is a natural paradise that spans over 10,000 acres, boasting pristine sandy beaches fringed by dense maritime forests. The island's unspoiled nature is a testament to its dedicated conservation efforts, creating a serene setting for wildlife viewing, relaxation, and beachcombing.
Wassaw Island is home to an incredibly diverse range of wildlife. The dense forests are inhabited by an array of bird species, while the shores are frequented by nesting sea turtles. The island's marshes are inhabited by various waterfowl and migratory birds, making it a birdwatcher's paradise.
The tranquility of Wassaw Island offers an unparalleled opportunity for relaxation. The island's secluded beaches provide a peaceful retreat, away from the hustle and bustle of city life. Whether it's taking a leisurely stroll along the sandy beach front, watching the local wildlife show, or simply soaking up the sun, Wassaw Island offers a unique and tranquil experience.
The beaches on Wassaw Island are also ideal for beachcombing. Visitors can spend hours exploring the shore, uncovering a variety of seashells, driftwood, and other treasures swept ashore by the sea. It's a captivating activity that can yield surprising discoveries, offering a unique perspective of the island's marine life.
7. Folly Beach: A True Beach Town
Located just north of Savannah, South Carolina, Folly Beach is one of the last true beach towns left standing in the United States. This coastal gem is a haven for those seeking a peaceful retreat away from the hustle and bustle of city life. A place where time seems to slow down, Folly Beach offers miles of pristine sand that stretch out into the horizon, creating an idyllic tableau that would leave any beach lover in awe.
The town exudes a laid-back vibe, with its charming beachfront homes, local shops, and quaint eateries that serve fresh seafood and other local delicacies. The community is a friendly and welcoming one, where residents and visitors alike can enjoy a leisurely stroll along the beach, surf the waves, or simply soak up the sun.
Despite its tranquil demeanor, Folly Beach is not without its fair share of recreational activities. From surfing and paddleboarding to fishing and bird watching, there is something for everyone. The town's iconic pier, stretching out into the Atlantic, is a popular spot for anglers and sightseers alike.
Offering a quintessential beach town experience, Folly Beach is the perfect destination for those who seek to experience the charm of coastal living in its most authentic form.
8. Hunting Island State Park: A Natural Playground
Nestled in the heart of South Carolina, Hunting Island State Park serves as a mesmerizing natural playground for outdoor enthusiasts. This park, spanning over 5000 acres, is a kaleidoscope of nature's wonders, with pristine sandy beaches, lush marshlands, and dense, ancient maritime forests that paint a picture of untouched wilderness. This is definitely one of the best beaches near Savannah Georgia.
The island's beaches stretch over four miles, offering a tranquil retreat for beachcombers and sunbathers. The coastline, dotted with shells and driftwood, provides a serene backdrop for relaxing walks, invigorating swims, and exciting fishing experiences.
The park's lagoon, too, is a popular spot for fishing, crabbing, and paddling, offering a refreshing journey into the heart of nature.
Beyond the water's edge, Hunting Island's maritime forest is a paradise for hikers and birdwatchers. The trails, winding through a dense canopy of Palmetto trees and Live Oaks, reveal a rich ecosystem thriving in harmony.
The forest, echoing with birdcalls, is home to a myriad of bird species, making it a birdwatcher's paradise. From White Ibis and Egrets to Ospreys and Bald Eagles, the wealth of avian life is astounding.
The park is also a sanctuary for a variety of wildlife, such as deer, raccoons, and alligators. Here, nature lovers can enjoy the thrill of wildlife spotting, providing a unique opportunity to observe these creatures in their natural habitats.
Additionally, the marshlands of Hunting Island present a unique ecosystem. The high and low tides of these marshes allow visitors to witness the fascinating transition between aquatic and terrestrial habitats, further enhancing the island's ecological diversity.
Hunting Island State Park is more than just a spot for recreation; it's an immersive experience that allows visitors to connect with nature at its purest.
Whether it's the soothing sound of gentle waves lapping against the shore, the rustling of leaves in the breeze, or the sight of a deer grazing peacefully, every moment spent here is a testament to nature's unspoiled beauty. This natural playground, rich in biodiversity and tranquility, truly offers an unforgettable escape from the mundane.
9. Cumberland Island: A Blend of History and Nature
Cumberland Island offers a unique blend of history, nature, and beautiful beaches. It's home to a variety of wildlife and historical landmarks, making it a must-visit for both history buffs and nature enthusiasts.
One of the most significant features of Cumberland Island is its remarkable biodiversity. The island is a haven for wildlife lovers, with its lush maritime forests, salt marshes, and wide beaches serving as the backdrop to sightings of wild horses, sea turtles, and a myriad of bird species.
The island's history is equally as captivating. Cumberland Island is peppered with historical landmarks, such as the Dungeness Ruins, remnants of a mansion once inhabited by the Carnegie family.
The Plum Orchard Mansion, another Carnegie family home, is an impressive example of classical revival architecture and offers an insight into the affluent lifestyle of the island's past inhabitants.
Visitors can also explore the First African Baptist Church, a significant site in African American history, where the wedding of John F. Kennedy Jr. took place.
The beauty of Cumberland Island lies in its harmonious blend of history and nature, offering visitors a unique perspective on the past while immersing them in the serene natural environment.
10. Fernandina Beach: A Florida Gem
Situated just a stone's throw away from the Florida-Georgia state line, Fernandina Beach is a captivating destination that promises miles of stunning beaches, diverse wildlife, and crystal-clear waters. A tranquil retreat from the urban hustle, this beach town is a paradise for those willing to venture a little further from the bustling center of Savannah, Georgia and beautiful Savannah River.
Fernandina Beach is more than just a typical beach town; it offers a unique blend of natural beauty and cultural history. The town is renowned for its striking Victorian architecture and historic downtown district, which adds to the charm of this coastal getaway. Here, visitors can explore quaint boutiques, sample local cuisine, and learn about the region's rich past.
The wildlife at Fernandina Beach is nothing short of spectacular. From sea turtles crawling up the sandy shores to lay their eggs, to dolphins frolicking in the ocean waves, nature enthusiasts are in for a treat. The surrounding marshlands and nature reserves also provide a perfect habitat for a wide variety of birds and other wildlife species.
But Fernandina Beach doesn't just cater to nature lovers. The beach itself is a haven for water sports enthusiasts, offering opportunities for surfing, paddleboarding, and fishing. The pristine, unspoiled waters make it an ideal spot for swimming or simply lounging by the shore.
The diverse range of beaches near Savannah, Georgia, indeed, offers something for everyone. From bustling beach towns like Tybee Island to serene nature reserves like Little Tybee Island, each beach boasts its own unique charm, promising an unforgettable seaside experience.
So, next time you find yourself in Georgia and looking for the best beaches near Savannah Georgia, make sure to carve out some time to explore these coastal gems. Whether you're a nature lover, history buff, or just looking for a peaceful retreat, the beautiful beaches here near Savannah will not disappoint.
---