July 4, 2023 0 Comments Best Beaches in The World, Destinations
The Closest Beach to Charlotte NC – 9 Great Options!
Charlotte, North Carolina, often referred to as "The Queen City," is the largest city in North Carolina. However, despite the city's size and numerous attractions, it is notably lacking in one desirable feature – a beach! But fret not, beach enthusiasts! This guide to closest beaches to Charlotte offers a roundup of the best lakes and ocean beaches within a reasonable distance from the city. So, if you're wondering, "What is the closest beach to Charlotte NC?" keep reading to find your answer!
A Freshwater Quick Dip: The Closest Lake Beaches to Charlotte NC
Charlotte boasts a number of beautiful freshwater lake beaches within its vicinity. Here's a quick look at three of the most popular ones: Lake Norman, Lake Wylie, and Badin Lake.
1. Ramsey Creek Park: Beach at Lake Norman
Just a mere 35-minute drive north of Charlotte, Ramsey Creek Park is home to a delightful beach area along the shores of Lake Norman. This lake is not only North Carolina's largest but also its most popular. It was created between 1959 and 1964 by the Cowans Ford Dam. The park offers a range of family-friendly activities, including swimming, fishing, and boating.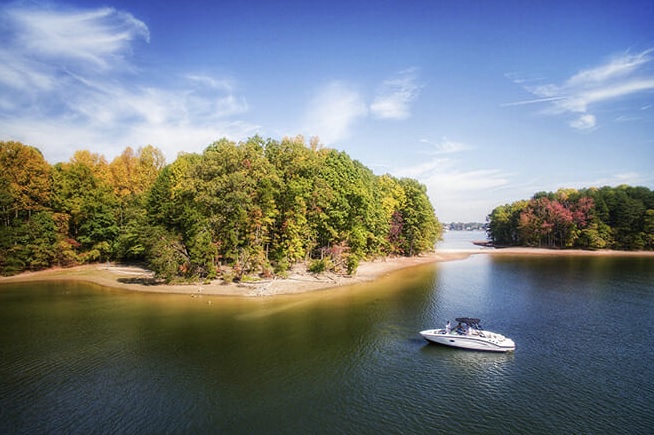 Here are some stats about Lake Norman:
Family-Friendliness: 4/5
Safety: 4/5
Amenities: 4/5
Water Quality: 4/5
Accessibility: 4/5
2. Ebenezer Park: A Nice Beach at Lake Wylie
Nestled between Rock Hill and Charlotte, Lake Wylie is the nearest beach spot to Charlotte. Just 20 minutes away, it's a top choice for those seeking quick beach getaways. The park offers a public swimming beach (with no lifeguards on-duty!), a playground, a concession stand, and picnic tables. There's also a small fee for entry.
Some stats about Ebenezer Park
Family-Friendliness: 4/5
Safety: 4/5
Amenities: 4/5
Water Quality: 4.5/5
Accessibility: 4/5
3. Kings Mountain Point: Badin Lake Recreation Area
If you don't mind a slightly longer drive (1.5 hours from Charlotte), Kings Mountain Point in the Badin Lake Recreation Area is well worth considering. This peninsula offers beach access for swimming, fishing piers, picnic tables, and a grill. The area also provides an array of activities, including many hiking trails, horseback riding, mountain biking, fishing, boating, and camping.
Some stats about Kings Mountain Point
Family-Friendliness: 4.5/5
Safety: 4/5
Amenities: 4/5
Water Quality: 4.5/5
Accessibility: 4/5
South Carolina Beaches near Charlotte NC
Several of the closest ocean beaches to Charlotte NC are actually located in neighboring South Carolina, not North Carolina. South Carolina's Atlantic coast beaches are all within a 3-hour and 50-minute drive from Charlotte NC, making them perfect for a weekend getaway.
4. Myrtle Beach – The Closest Ocean Beach to Charlotte NC
If you're craving the salty air and vast expanse of the Atlantic ocean, Myrtle Beach, SC is your best bet. It's the closest ocean beach to Charlotte NC, at 188 miles away, which translates to roughly a 3.5-hour drive.
Myrtle Beach is one of the most popular beach destinations in the southeast, and it's also the closest ocean beach to Charlotte NC. This bustling beach city offers a range of family-friendly entertainment, world class golf courses, fun attractions and all you'd want from an Atlantic beach.
Myrtle Beach, SC, is a premier beach destination in the United States for several reasons. Firstly, the city boasts an impressive 60-mile stretch of coastline that includes top-rated beaches and surfing towns like Cherry Grove and Surfside Beach. This vast expanse of mostly sandy beaches and shoreline provides ample space for beachgoers to enjoy the sun, surf, and sand, making it an ideal spot for both relaxation and water sports.
Secondly, the city is home to a vibrant downtown area that offers a variety of attractions such as the Fun Plaza Family Fun Center and the beachfront Boardwalk and Promenade. These spots add an additional layer of entertainment and engagement for visitors, enhancing their beach vacation experience.
Thirdly, Myrtle Beach hosts numerous spring and summer festivals, including the Wings Over Myrtle Beach Air Show and the Carolina Country Music Festival. These events provide unique entertainment options that set Myrtle Beach apart from other beach destinations.
Lastly, the city's wide array of dining options, such as the Sugar Life Ice Cream and Candy Bar, and the nation's largest gift shop, the Gay Dolphin Gift Cove, cater to diverse tastes and interests, making Myrtle Beach a versatile beach destination.
Drive Time from Charlotte NC: 3.5 hours
Distance from Charlotte NC: 188 miles
5. Folly Beach, SC
Folly Beach, located in the greater Charleston area, offers a laid-back atmosphere and is known for being one of the most popular surf spots on the east coast. It's just a 3.5-hour drive from Charlotte.
Folly Beach, South Carolina, combines the charm of a small beach town with the accessibility and adventure of a popular coastal destination. It's proximity to Charleston, just a 15-minute drive, allows visitors to enjoy the best of both city culture and beach relaxation in one trip. The beach is renowned for The Washout, a surfing spot known to have the best waves on the east coast, making it a magnet for surfers and water sports enthusiasts.
Moreover, Folly Beach stands out for its wide, sandy shoreline that offers ample space for beachgoers to relax and revel in the sun. The beach is free from the usual crowd, providing an idyllic setting for those seeking tranquility. Furthermore, its strategic location, just a 3.5-hour drive from Charlotte, enhances its appeal as a convenient getaway spot.
In addition to its natural beauty and beautiful beaches, Folly Beach offers fresh, high-quality seafood, adding to the overall gastronomic experience. The town retains a charming, laid-back atmosphere, devoid of the usual commercial hustle, making it an ideal location for vacationers looking for a serene, rejuvenating beach experience.
Drive Time from Charlotte NC: 3.5 hours
Distance from Charlotte NC: 219 miles
6. Sullivans Island, SC
Sullivans Island, famous for its miles of pristine beaches, restaurants, and events throughout the year, is also just a 3.5-hour drive from Charlotte.
Located in South Carolina, Sullivans Island is a gem of a coastal destination that holds a unique charm. Unlike other beach locations, it is known for offering a serene, less crowded environment, perfect for those looking to escape the hustle and bustle of city life.
This quaint barrier island, steeped in rich history, is home to the iconic Fort Moultrie, which played a significant role in the American Revolution. The barrier island's striking lighthouse is another must-visit attraction for its panoramic views.
Moreover, Sullivans Island provides a plethora of outdoor activities. From kayaking and paddleboarding to fishing and bird watching, there is something for every nature enthusiast.
The island's local cuisine is another highlight, with numerous waterfront dining establishments serving up delicious local and international dishes. And, being just a short drive from Charlotte, Sullivans Island is an easily accessible and unforgettable beach destination for a day trip or extended stay.
Thus, its blend of history, natural beauty, and tranquility makes it a favorite among discerning travelers.
Drive Time from Charlotte NC: 3.5 hours
Distance from Charlotte NC: 215 miles
North Carolina Beaches: A Slightly Longer Drive from Charlotte NC
While the closest beach to Charlotte NC might be in South Carolina, North Carolina also boasts some beautiful beaches and some fantastic beach destinations that are worth the slightly longer drive.
7. Wrightsville Beach, NC
Wrightsville Beach is often labeled as one of the best beaches in the south. Known for its crystal blue water and great surf, this beach is a must-visit for watersport enthusiasts.
Wrightsville Beach, North Carolina, truly embodies the quintessential charm of a southern beach destination. With its vibrant crystal blue waters, it presents an inviting environment for water sport enthusiasts, including surfers, paddleboarders, and kayakers.
The beach is also a haven for anglers with its famous fishing pier, Johnnie Mercer's Pier, offering an ideal vantage point for a rewarding fishing experience.
Moreover, Wrightsville Beach isn't just about the water. It boasts a scenic Loop, a 2.5-mile trail circling the beach, perfect for walking, running, or cycling while soaking in the stunning coastal views.
The beach's proximity to Wilmington offers an added advantage of exploring the city's rich historical heritage and vibrant arts scene after a fun-filled beach day.
Lastly, Wrightsville Beach shines with its local culinary scene. With a myriad of oceanfront restaurants and bars, it allows visitors to indulge in delectable seafood while witnessing mesmerizing sunsets. The beach's inviting ambiance and diverse offerings make it a standout beach destination.
Drive Time from Charlotte NC: 3 hours, 35 minutes
Distance from Charlotte NC: 198 miles
8. Sunset Beach, NC
Part of the Brunswick Islands, Sunset Beach is known for its serene environment, beautiful views, and abundant wildlife.
Sunset Beach, nestled in the Brunswick Islands of North Carolina, is a tranquil haven that offers an unforgettable beach experience. The beach is renowned for its strikingly beautiful sunsets that paint the sky with hues of red, orange, and pink, providing a mesmerizing sight that has given the beach its fitting name. Unlike many other beach destinations, Sunset Beach is a sanctuary for diverse wildlife.
From the nesting sea turtles to the migratory birds at the Bird Island Reserve, the location offers nature enthusiasts an unparalleled opportunity to observe and appreciate a rich array of fauna in their natural habitat. Additionally, the Ingram Planetarium provides a unique, educational experience that sets Sunset Beach apart.
The beach also boasts a peaceful atmosphere, free from the hustle and bustle often associated with commercial beach destinations, making it the perfect place for those seeking relaxation and tranquility. With its distinct offerings, Sunset Beach truly stands out as an exceptional beach destination.
Drive Time from Charlotte NC: 3 hours, 29 minutes
Distance from Charlotte NC: 197 miles
9. Ocean Isle Beach, NC
Ocean Isle Beach is a small beach town off the North Carolina coast. Known for its beautiful 4.5-mile beach, it's the perfect quaint spot for a family getaway.
Ocean Isle Beach in North Carolina stands out as a great first beach vacation destination because of its unique combination of natural beauty and leisure activities. This beach town boasts a stunning 4.5-mile beach, which is known for its pristine condition and gentle waves, making it an ideal spot for a peaceful family beach vacation.
What sets Ocean Isle Beach apart among ocean beaches is its perfect balance of leisure and adventure. The serene coastline and barrier island is perfect for those seeking tranquility, while the ocean teems with opportunities for water sports and recreational fishing. Those interested in golf have access to challenging and scenic golf courses in the area.
Furthermore, Ocean Isle Beach is rich in cultural experiences. The Museum of Coastal Carolina offers intriguing exhibits about the region's natural and cultural heritage. For wine enthusiasts, the Silver Coast Winery provides delightful wine tasting opportunities.
Lastly, the beach town's dining scene caters to all tastes, offering everything from casual fare to fine dining establishments that serve exquisite meals against the backdrop of awe-inspiring sunset views. This blend of relaxation, adventure, and culture makes Ocean Isle Beach a coveted beach destination.
Drive Time from Charlotte NC: 3 hours, 20 minutes
Distance from Charlotte NC: 192 miles
Whether you're a fan of freshwater or saltwater, there's a beach for you within a reasonable distance from Charlotte, NC. So, pack your sunscreen, grab your beach towel, and head out to experience the best beaches and closest beach to Charlotte NC. After all, life's a beach!
---