July 19, 2023 0 Comments Best Beaches in The World, Destinations
The Best Beaches in Peru to Explore!
Peru, a country known for its rich history, ancient civilizations, and stunning Andean landscapes, also offers a treasure trove of coastal beauty. With over 1500 miles of coastline stretching from the edge of the Andes to the vast Pacific Ocean, Peru's beaches and the Peruvian coast in general are as diverse and captivating as the country itself.
From secluded coves and surfer's paradises to resort-filled bays, here are some of the best beaches in Peru that you should explore!
1. Barlovento – A Fishing Haven
Located in the Ica region of Peru, Barlovento is a must-visit for fishing enthusiasts. Nestled between Pisco and Ica, this secluded beach is a prime spot for reeling in the Peruvian coast's most valuable treasures, such as sea bass or corvina and a type of sole known as lenguado. Part of the year you can also see sea turtles.
This beach, however, carries the charm of an isolated destination, devoid of accommodations and accessible only by a two-hour off-road drive from the nearest highway. The adventurous journey and the opportunity to camp at the edge of towering dunes make it a unique experience for those seeking a bit of wilderness.
Barlovento is often regarded as the best place for hand-pole fishing in Peru.
The serene ambiance of Barlovento, combined with the rhythmic lapping of the waves of the blue sea, provides a tranquil setting that is hard to come by in most fishing spots. The beach is free from the usual hustle and bustle of commercial fishing docks, allowing anglers to enjoy a peaceful fishing experience.
The isolated beach also offers a rich abundance of marine life. The clear waters provide a bountiful habitat for a variety of sea creatures, making it a paradise for both experienced anglers and novice fishermen alike. You can expect a rewarding catch, a testament to the beach's fertile waters.
Furthermore, the journey to Barlovento itself is an adventure. The challenging off-road drive, the untouched landscape, and the opportunity to camp under the Peruvian sky are experiences that add to the thrill of the fishing expedition.
The raw, untouched beauty of Barlovento, along with its reputation as a fishing haven, makes it a top choice for those seeking a unique fishing experience in Peru. From the undisturbed environment to the abundant catch, everything about Barlovento promises an unforgettable fishing adventure.
2. Paracas – A Sanctuary of Marine Wildlife
The town of Paracas, located in the coastal desert of Ica, is home to one of Peru's most significant marine wildlife sanctuaries. Brimming with impressive colonies of sea lions and seabirds like the Guanay cormorant, Paracas offers a unique beach experience.
The peninsula hosts several secluded beaches such as Playa de la Mina, Mendieta, Playa Roja, and Yumaque, all of which are flanked by amber desert cliffs facing clear blue waters.
Paracas's bay area boasts a wide range of beach hotels, from budget-friendly hostels to luxury resorts, making it an ideal location for water sports like windsurfing and kite surfing.
You can venture to the Paracas wildlife sanctuary by car as well which is a pro tip.
Paracas, with its distinct biodiversity and captivating natural beauty, is nothing short of an ecological treasure. Its waters are home to myriad marine species, including the endangered Humboldt penguin and the Peruvian diving petrel, making it a must-visit destination for birdwatchers and wildlife enthusiasts.
The secluded beaches of Paracas are an intriguing combination of desert and sea, where the warm amber hues of the cliffs contrast with the deep azure of the Pacific Ocean. Each beach has its unique charm, with La Mina being a popular beach for its calm waters, Mendieta known for its tranquility, Playa Roja recognized for its unusual red sand, and Yumaque famed for its scenic beauty.
Accommodation in Paracas caters to a range of preferences and budgets. Beachfront hostels offer travelers an affordable way to enjoy stunning sea views, while luxury resorts provide high-end amenities for those seeking indulgence in one of the nicest Peruvian beaches.
The Paracas National Reserve, a protected area sprawling over 335,000 hectares, is a short car ride away. It offers visitors a chance to explore the region's rich biodiversity, fascinating geology, and ancient history. Whether you're a keen wildlife observer, an adventure seeker, or a history buff, Paracas promises a memorable experience.
3. Cerro Azul – A Surfer's Paradise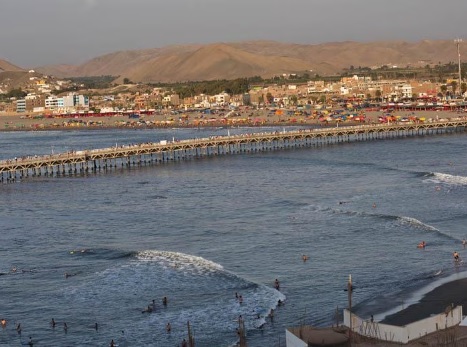 Cerro Azul, a scenic town located in the Cañete region, earned its fame when it was mentioned in the legendary Beach Boys' hit, "Surfin' Safari," in 1962. This town, perched at the edge of the fertile valley formed by the Cañete River, is renowned for its surfing opportunities.
Cerro Azul's extensive stretch of fine sand, long pier, and beach volleyball and warm hospitality make it a delightful destination for families and surfers alike. This popular beach's charm lies in its picturesque fishing village, where visitors can relish fresh ceviche while enjoying the coastal view.
For surfers, riding a wave by Eagle Rock and cruising down to the pier is an exhilarating experience, even after sunset.
Cerro Azul also offers a unique insight into Peruvian coastal life. Its streets are lined with traditional houses and small shops, which are bustling with locals and tourists alike. The town's vibrant culture is infectious, offering a blend of warm hospitality and a laid-back surf vibe that's hard to resist.
Not only does local surf resort of Cerro Azul offer world-class surfing, but its stunning natural beauty also extends beyond the beachfront. Nestled beneath the rolling hills, the town features breathtaking landscapes and rich biodiversity, making it a haven for nature enthusiasts.
When the sun sets, the beachfront comes alive with bonfires and music, the perfect end to a day of surfing. The nightlife in Cerro Azul is as relaxed and serene as the town itself, offering visitors an opportunity to unwind, share their surfing tales, and immerse themselves in the local culture.
Moreover, the culinary scene in Cerro Azul is equally enticing. From the local markets serving up fresh, locally sourced seafood to the small cafes offering traditional Peruvian dishes, there's something for everyone. The unfaltering beauty and charm of this surfers' paradise make it a must-visit destination.
4. Tuquillo – A Hidden Gem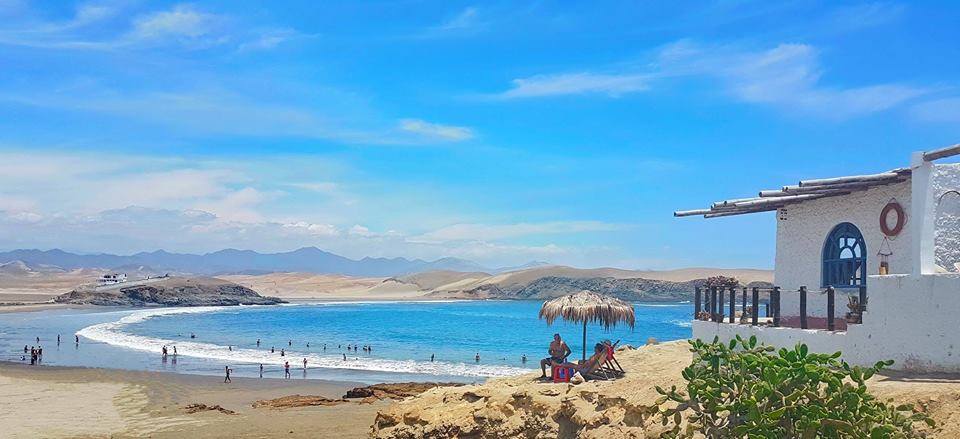 Situated in the cliffs of Huarmey, approximately four hours north of Lima, lies the secluded beach of Tuquillo. This beautiful beach alone, adorned with curious caves, lagoons, and unique rock formations, offers a different beach experience.
Tuquillo's conservation efforts have earned it an eco-beach prize, making it a lesser-visited but equally delightful beach. With vast spaces and clear waters, red beach of Tuquillo is perfect for relaxing and soaking up the Peruvian sun.
Don't forget to explore La Pocita, a major beach destination but still a sparsely populated beach and small neighboring area is known for its picturesque aquamarine tide pools.
The conservation initiatives at Tuquillo have not only preserved its pristine environment but also enhanced its appeal as an eco-friendly destination. This award-winning beach boasts immaculate, golden sand, sands and crystalline turquoise waters, a testament to the commitment of the locals and authorities to maintain its untouched charm. The beach's wide-open spaces provide an idyllic setting for sunbathing, picnicking, or simply unwinding while appreciating the serene coastal beauty. The clear, calm waters offer a refreshing dip, perfect for cooling off under the radiant Peruvian sun.
In the vicinity, La Pocita beckons with its tranquil ambiance, soft sand beaches and distinctive tide pools. This neighboring beach is treasured for its shallow, aquamarine pools, formed naturally by rocks that protect them from the waves. It's an ideal spot for families, particularly those with young children, as the pools offer a safe and enjoyable place for a swim. The vivid hue of the tide pools against the pale sands paints a picturesque landscape, making it a delightful sight for photography enthusiasts.
Along with the natural splendors, both Tuquillo and La Pocita offer culinary delights in the form of local restaurants serving fresh catch of the day. Don't miss out on this gastronomic adventure that adds to the overall experience of visiting these hidden gems.
5. Puerto Viejo – The Weekend Getaway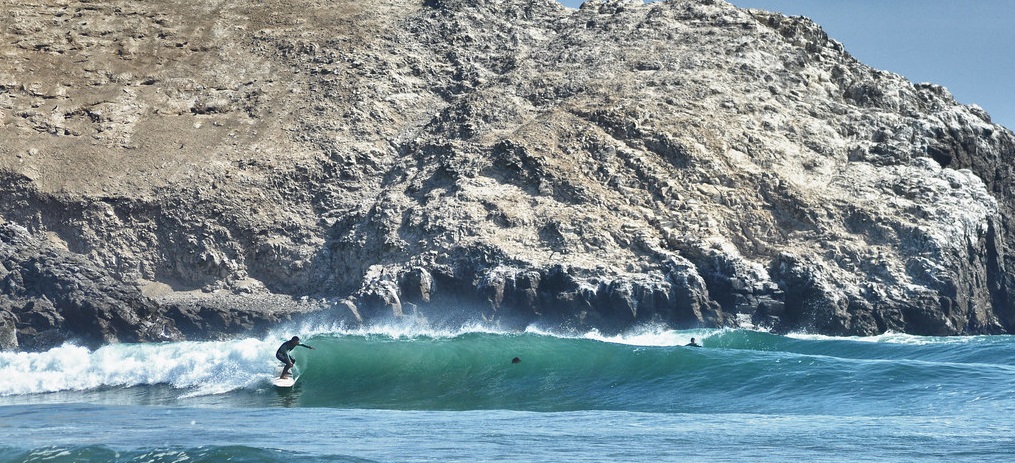 Puerto Viejo, an hour and a half from Lima, is a popular weekend getaway spot. The seemingly never-ending beach, with its natural wetlands ecosystem, is a hub for a variety of migratory birds. The beach is also a favorite among surfers, with many reporting sightings of dolphins while catching a wave.
In contrast to the bustling city life of Lima, Puerto Viejo offers a serene retreat. Its vast, sandy beach allows for peaceful strolls while bird-watching or simply enjoying the sunset. The biodiversity of all the beaches and wetlands is captivating, with a myriad of migratory birds filling the sky, creating a mesmerizing spectacle. Surfers find a unique thrill in not only riding waves but also observing dolphins frolic in their natural habitat. There are a few surf schools as well if you'd like to learn.
The local culture is equally enchanting. Don't miss the opportunity to explore the nearby traditional markets for a taste of local cuisine and crafts. After a picnic and a day under the sun, unwind with a surfing session, as the cool evening breeze brushes past, concluding an unforgettable day at Puerto Viejo.
Bonus Tip: Pack a picnic and enjoy a family day out on the beach before heading out for a surf session.
6. El Silencio – A Seaside Escape
Located a short 40-minute drive from Lima, El Silencio is a sandy beach that offers a much-needed seaside escape from the city. Thanks to the refreshing water temperatures averaging 20ºC (68°F) during the summer months, visitors can enjoy a dip in the bouncy waters or engage in some splashy fun as the waves sweep the soft sand around smoothly.
Providing a snapshot of Peru's memorable summer, El Silencio is less crowded, allowing visitors to have a tranquil beach experience. The beach is renowned for its cleanliness, which has significantly improved over time, offering a safe and enjoyable environment for beach-goers. The beach-side restaurants, though few, serve fresh ceviche, a local delicacy, offering a culinary treat right on the beach. Nearby attractions like the First Pisco Museum in Pachacamac enrich the trip with a dose of culture and art. Uncertain about its public accessibility, visitors are advised to confirm before planning their visit.
7. Chicama – The Birthplace of Pre-Columbian Civilizations
Chicama, located north of Trujillo, is a surfer's dream. Known for its long stretch of beach with waves that can be ridden for more than 1km (0.6 miles), Chicama offers surfing opportunities for all abilities, from beginners to pros.
Chicama's beachfront is dotted with accommodations and restaurants, perfect for warming up after surfing in the chilly waters during the cooler months (May to November).
The smooth, long-lasting waves of Chicama, often referred to as the longest in the world, have been known to carry surfers as far as 2km, making it a unique surfing destination. The coastline is constantly shaped by wind and current, adding an element of challenge and excitement.
Besides surfing, visitors can delve into the rich history of pre-Columbian civilizations in nearby Trujillo. After a day of riding big waves, or exploring, travelers can retreat to one of the local hotels or the surf camp, where they can receive expert guidance and immerse themselves in the surfing culture. The beachfront also offers a variety of dining options, allowing visitors to savor the local cuisine after a day of adventure.
8. Lobitos – The Hub for Surfers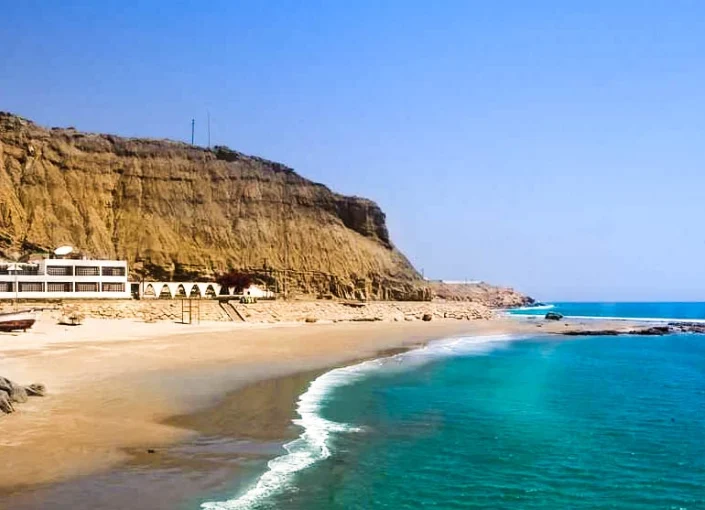 Lobitos, an old fishing settlement, has recently evolved into a tourist destination for surfers. This Peru beach and town, located at the westernmost point of continental South America, offers perfect waves for both beginner and professional surfers.
The charm of Lobitos extends beyond its surfer-friendly waves. Its rustic appeal is encapsulated in the town's quaint architecture, with wooden houses dotting the landscape, reflecting its history as an early 20th-century oil boomtown.
The welcoming locals add to the town's allure, always ready to share stories of Lobitos' past. Additionally, the town boasts a thriving arts scene with vibrant murals adorning walls throughout the area, adding a splash of color to the sandy surroundings. Lobitos, though a surfer's paradise, also captivates with its rich history and burgeoning arts scene.
9. Los Órganos – The Complete Beach Experience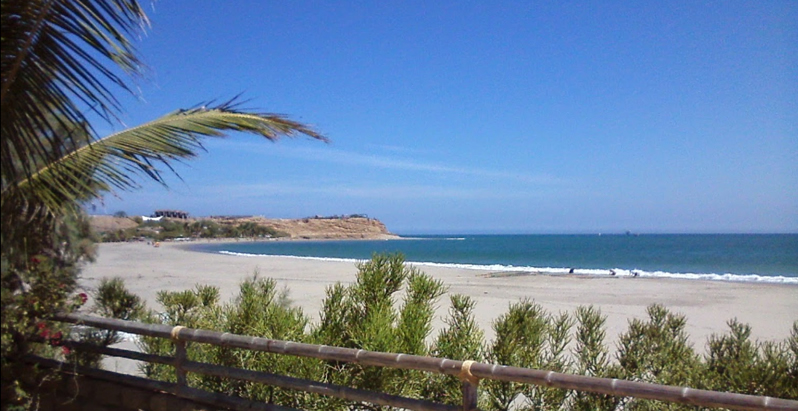 For a complete beach experience that includes calm waters for kids to swim in, warm sun for lazing around, and surfing, Los Órganos is the perfect destination. Located in a small fishing village, this lovely stretch of white sand also offers activities for all ages.
With a variety of accommodations, from first-rate beach hotels to rental houses, Los Órganos caters to every beach lover.
The beach has a serene atmosphere, dotted with palm trees offering shade to read a book or simply enjoy the picturesque surroundings. For adventure seekers, surfing lessons are available, and the waves are just perfect for both beginners and seasoned surfers.
A walk along the beachfront will lead you to local vendors selling delicious seafood, freshly caught from the nearby waters. Besides, the town is known for its warm hospitality, with locals happy to share the culture, traditions, and stories of Los Órganos. Whether it's a family vacation, a getaway with friends, or a solo trip, Los Órganos offers an experience of tranquility and fun. Los Organos is one of the beaches in Peru not to miss!
10. Punta Sal – The Tranquil Paradise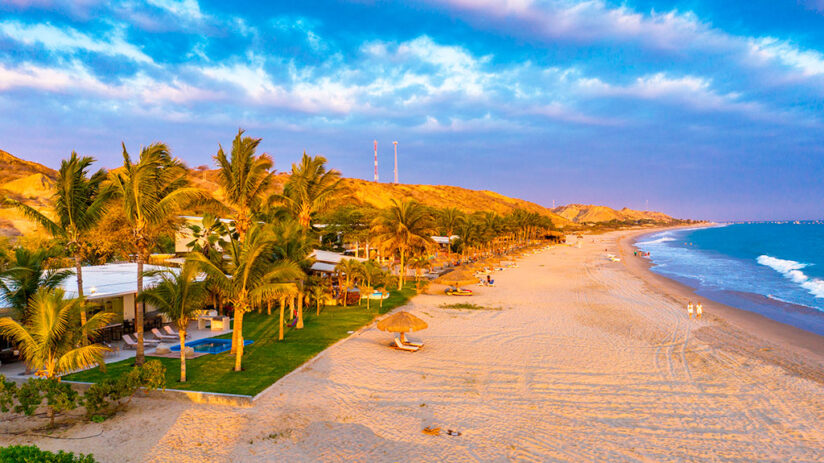 Punta Sal, located in the Tumbes region, is an ideal destination beach vacation, for those seeking warm waters and tranquility. Its serene setting, long sandy beaches, and rich fishing opportunities make Punta Sal a dream destination for beachgoers.
Punta Sal is an ideal spot for fishing enthusiasts, with species such as tuna and barracuda being abundant. Be sure to book in advance with a legitimate charter operator.
From the fishing paradise of Barlovento to the serene setting quiet fishing town of Punta Sal, the best beaches in Peru offer a diverse range of experiences.
Whether you're a surfer chasing the perfect wave, a nature lover looking to explore marine wildlife, or a sun-seeker wanting to laze on the sand, Peru beaches have something for everyone. So, pack your swimsuit, grab your sunscreen, and get ready to explore the many beautiful beaches and coastal gems of Peru!
---