May 19, 2021 0 Comments Best Beaches in The World, Destinations
8 Amazing Places to Visit in Florida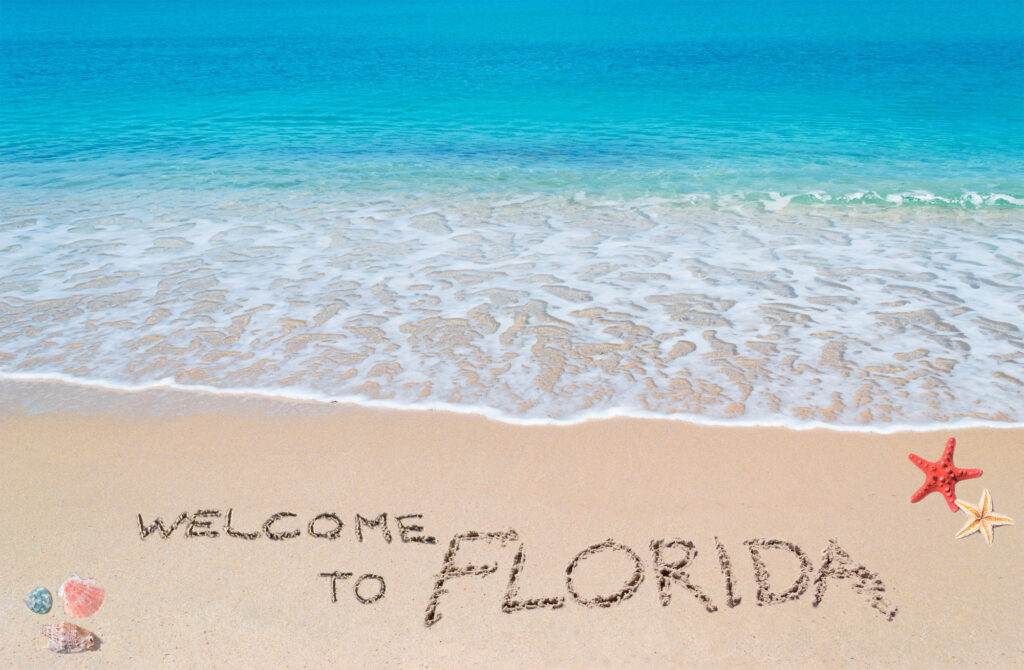 The sunshine state has been a refuge for people fleeing lockdown over the past year and for good reason. Florida has the longest coastline of all the 48 mainland states in the U.S. so there are plenty of beaches, coastal areas, and 4,510 10+ acre islands to enjoy the fresh air and sunshine.
Are you planning a trip to Florida?
What are the best places to visit in Florida?
Your Florida vacation can be anything from theme parks to Florida beaches to state parks to Art Deco architecture to Cuban culture. There is a lot to this very diverse state, so when thinking about where to go in Florida, the possibilities are many.
Visiting Florida with kids? There are theme parks galore, aquariums, the space center, and the Everglades. Looking to sit back and relax? The Florida Keys are laid back and picturesque.
Just about anything you desire in a vacation, you'll be able to find in Florida. Keep reading to learn more about eight amazing places you won't want to miss.
1. Sanibel Island
Sanibel Island is located off the southwest coast of Florida near Ft. Myers. It's known for its untouched natural beauty, pristine beaches, and 22 miles of dedicated bike paths.
Do you like to collect seashells? There are over 250 varieties of seashells scattered on the shore making "shelling" the most popular activity on the island.
Enjoy boating and fishing, visit the lighthouse, and dine on fresh seafood while visiting this zero-stop-light island.
2. Miami
Miami is a popular destination for travelers from around the globe. From the Art Deco district to the nightlife of South Beach to the bougie hotels of Miami beach to the historic hideaways and shopping in Coral Gables, there's a lot to explore.
Miami is home to a number of professional sports teams. Take in a Miami Dolphin's football game or a cheer on the Miami Heat at a home basketball game.
3. Tampa Bay Area
Dubbed Champa Bay following their three major professional teams making it to their league championships, this area of Florida has a lot to offer visitors.
Spend a day in Channelside…the Tampa Bay History Center, American Victory Ship Mariners Museum, and the Florida Aquarium are sure to please.
Drive west to Clearwater to enjoy the white-sand beaches and grab a famous grouper sandwich. Check out historic Ybor city and take in the Cuban, Italian, and Spanish influences that remain from the early days.
4. Blue Spring State Park
Covering over 2,600 acres of land, this state park encompasses the largest spring found on the St. John's River. Have a picnic in one of the picnic areas or under one of the covered pavilions. Take a dive into the clear water and visit with the hundreds of manatees that find refuge there between November and March.
The historic Thursby House, built during the steamboat era circa 1872, is located in the park. This house marks the period of time when Florida was transitioning from frontier land to a modern state.
5. St. Augustine
St. Augustine is the "Nation's Oldest City." It was founded by Spanish explorer Don Pedro Menendez de Aviles in 1565 and encompasses four centuries of history. Visit historic landmarks like Castillo de San Marcos, Ponce de Leon's "Fountain of Youth," and the Oldest Wooden Schoolhouse.
Walk the grounds of Flagler College which was once a Henry Flagler (founder of the Florida East Coast Railway) upscale hotel. You'll enjoy the amazing architecture, Tiffany windows, gardens, and fountains.
6. St. Petersburg
Looking for sunshine? St. Petersburg, FL, located between the Gulf of Mexico and Tampa Bay holds the record for the "most consecutive days with sunshine" at 768 days.
St. Pete has a lot to offer from a great downtown area on the bay to the amazing beaches along the Gulf. Visit the Dali Museum which houses the largest collection of his work outside of Spain. Check out the wide variety of bars and restaurants or have a gourmet popsicle on Central Ave.
Visit John's Pass Village and Boardwalk. Stroll along the 1,100-foot boardwalk, have a bite to eat at one of the water-view restaurants and pick up some Florida souvenirs while browsing the many shops.
7. Florida Keys
Ahhh the Florida Keys…just thinking about this laid-back part of Florida that sits between the mainland of Florida and the Caribbean relaxes your mind. From Key Largo to the Dry Tortugas, there is plenty to do and see.
Don't miss the John Pennekamp Coral Reef State Park. It's an undersea park that you can explore on a glass-bottom boat tour or on a kayak or while snorkeling or scuba diving.
Take in the Ernest Hemingway Home and Museum in Key West. See the six-toed cats, the descendants of Hemingway's pet cats, that roam the gardens.
8. Orlando
You'll never run out of things to see and do in the Orlando area. People from all over the world head to the place that has more theme parks than any other place in the world. Besides the Disney World parks, there are Universal Studios, Islands of Adventure, SeaWorld, Gator Park, and more.
Restaurants, shopping, and top-rated hotels all await the millions of visitors coming to Orlando each year.
Are you thinking about purchasing a Disney Vacation Club property so you and your family can enjoy luxurious vacations to Disney properties? Check out DVC resale vs direct to learn the difference between the two and learn more about the Disney Vacation Club.
The Best Places to Visit in Florida
While the list of places to visit in Florida can go on and on, these eight will get you started. One thing is for sure, do not forget your bathing suit and sunscreen. The sunshine state delivers plenty of sun and fun activities.
Do you like what you learned here? Be sure to bookmark our site for easy access to this helpful beach resource. Learn about the best destinations for a seaside getaway and start planning today.
---