September 27, 2023 0 Comments Best Beaches in The World
The Best Beaches Near Dallas, Texas
Dallas, the vibrant Texan city, is known for its impressive skyline, rich history, and an array of attractions. However, did you know that Dallas is also a gateway to some of the most beautiful beaches in Texas? Yes, you read it right! There are numerous beachfront destinations that you can reach within a few hours from the city. These seaside spots offer everything from sunbathing and swimming to boating, fishing and camping.
In this detailed guide, we'll take you through the closest beach to Dallas and other fantastic beaches within a reasonable driving distance. We'll provide you with in-depth insights about each beach, including their amenities, water quality, and family-friendliness. So, let's dive in and explore the best beach getaways near Dallas, Texas!
The Closest Beach to Dallas: Joe Pool Lake Recreation Area – Grand Prairie
Joe Pool Lake Recreation Area tops our list of closest beaches to Dallas, located just about 23 miles from the city center. This picturesque lake offers a sandy beach where you can enjoy a sun-soaked day with your family. While swimming is the prime attraction here, you can also indulge in picnicking, beach volleyball, and the kids can have fun in the ship-themed playground. The park also provides life jackets for safety, making it a perfect spot for families.
Little Elm Beach – A Sandy Beach Near Dallas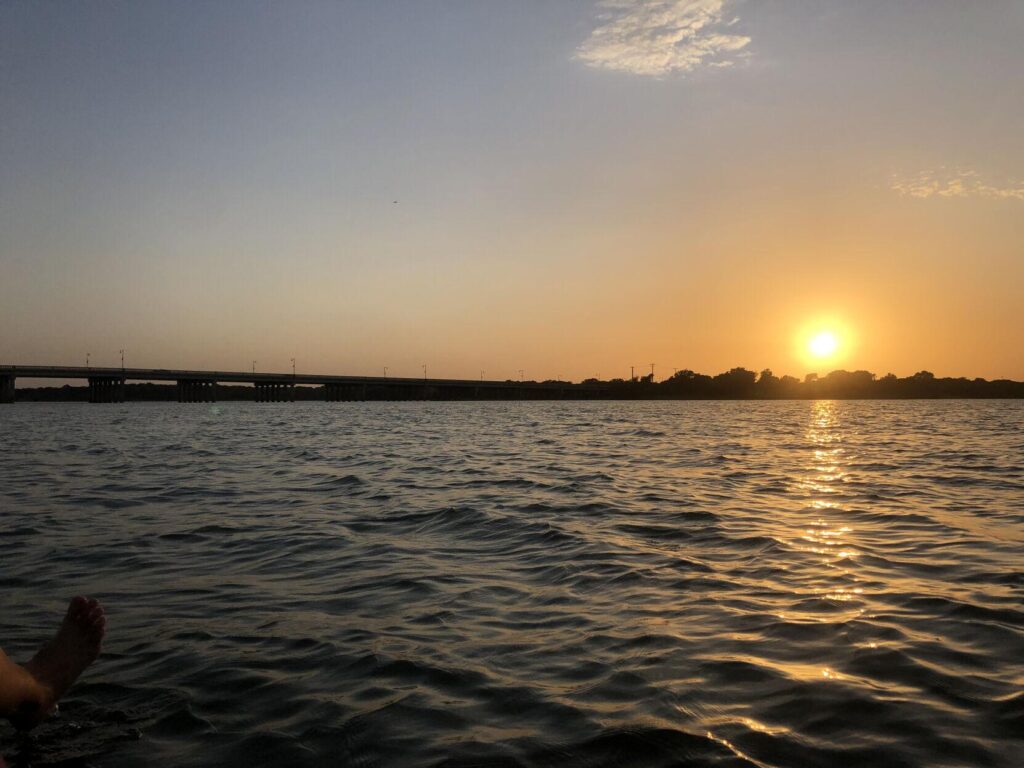 Located approximately 28 miles from Dallas, Little Elm Beach is another fabulous sandy stretch you should not miss. This man-made beach offers safe swimming areas for kids and the adults can enjoy sunbathing, picnicking, and kayaking. The park also offers hiking trails for those who want to explore the surroundings. However, it can get crowded on weekends, so it's advisable to arrive early.
Burger's Lake – Fort Worth
If you are willing to drive a little further, around 36 miles from Dallas, you will reach Burger's Lake in Fort Worth. This beach is a popular spot for families, with its sandy shores, blue waters, and a host of amenities. The area offers picnic tables, a pavilion with picnic tables, and showers, making it a perfect family destination.
Granbury City Beach – Granbury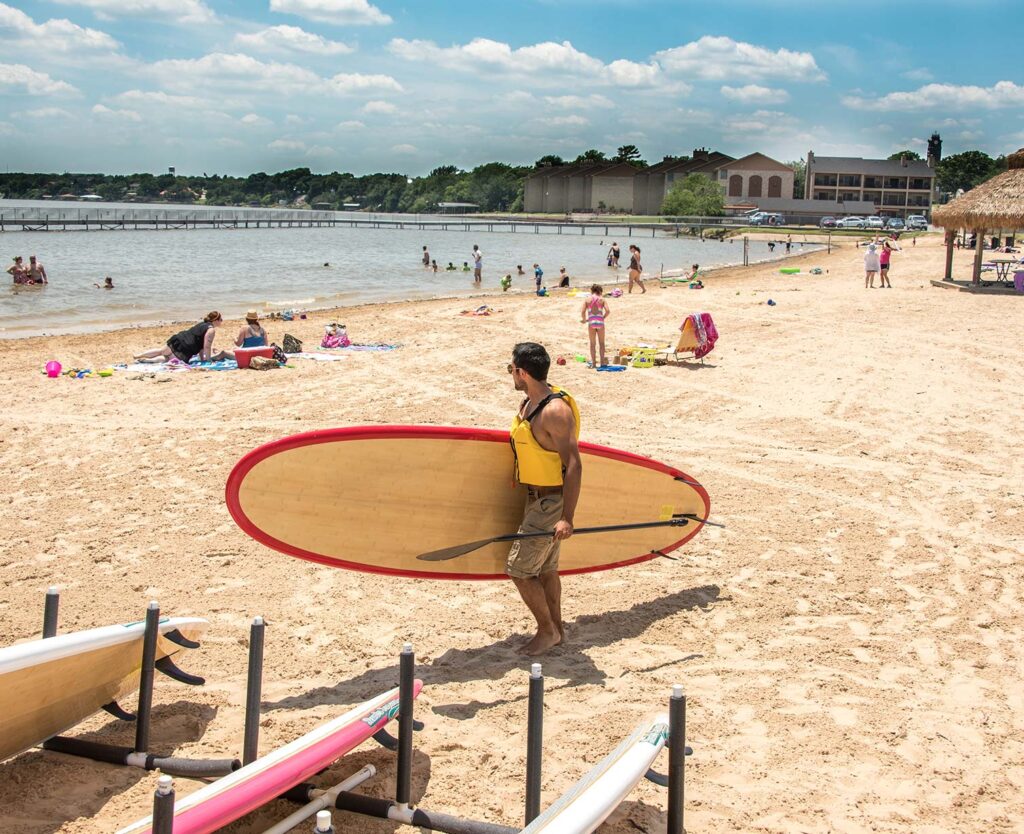 Approximately 62 miles from Dallas, located in the city center of Granbury, this beach offers a calm and relaxing environment. The beach is quite safe for swimming, and you will find several eateries around the area. It's a great place to unwind while enjoying some local delicacies.
Tonkawa Falls Beach – Crawford, TX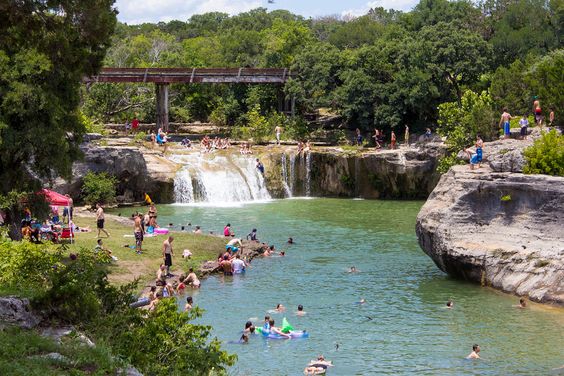 For those who don't mind a bit of a drive, Tonkawa Falls Beach in Crawford is a fantastic option. Situated around 93 miles away from Dallas, this swimming hole is known for its waterfall and cliffs. It's a family-friendly spot, but be cautious as water levels can fluctuate drastically.
Mustang Island State Park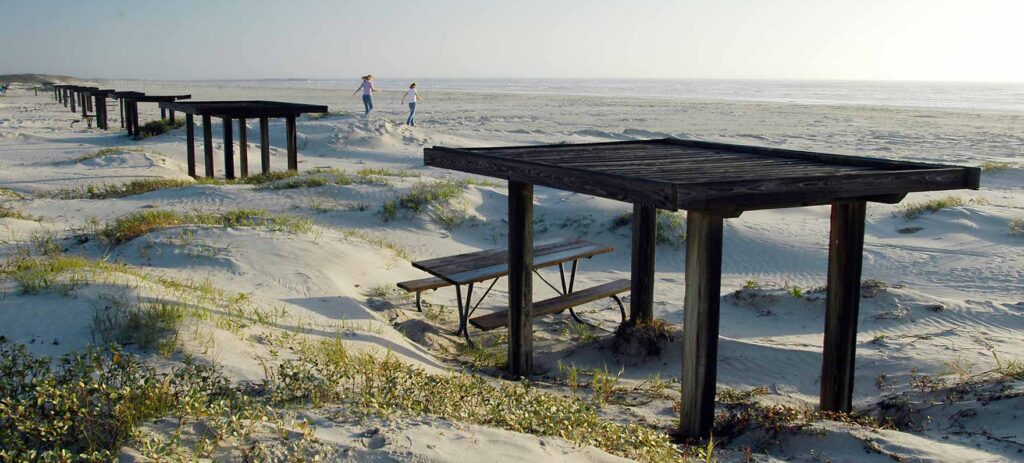 Ranked as one of the best beaches in Texas, Mustang Island State Park is a beautiful destination located about 373 miles from Dallas. This state park offers over 5 miles of shoreline and even on crowded days, you can easily find a secluded spot to relax. The beach is quite clean and the water is clear, making it a perfect spot for swimming.
Malaquite Beach – Padre Island National Seashore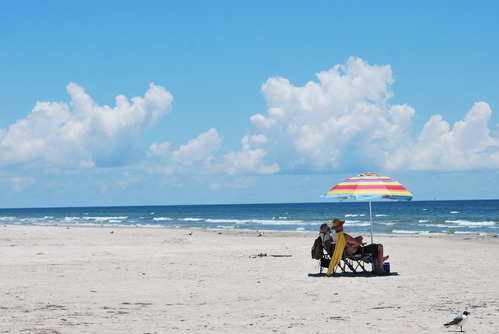 Malaquite Beach, situated about 406 miles from Dallas, is truly a slice of paradise in Texas. With crystal clear turquoise blue ocean, ridiculously white and soft sand, and an undeveloped barrier island stretch, this beach is a must-include in your bucket list and one of the best beaches near Dallas.
Port Aransas Beach – Port Aransas
While the beach at Port Aransas itself might not be the best in terms of cleanliness and water clarity, the charming seaside town of Port Aransas makes it worth a visit. Located approximately 387 miles from Dallas, the town offers good restaurants, nightlife, and entertainment options.
Beaches to Skip
While there are many great beaches near Dallas, there are a few that you might want to skip for various reasons. These include North Beach in Corpus Christi, which is often crowded and doesn't offer any amenities. Similarly, Bob Hall Pier Beach in Texas is also known to get quite crowded and doesn't have the best water quality.
Commonly Asked Questions about Beaches Near Dallas
Now, let's answer some frequently asked questions about the closest beach to Dallas and other popular beaches near the city.
What is the closest ocean beach to Dallas, TX?
The closest ocean beach to Dallas is Galveston Island, located approximately 293 miles from the city. It offers a large sandy beach with several amenities including restrooms, showers, and picnic areas.
How far is the beach from Dallas, TX?
The distance to the beach from Dallas depends on the specific beach you plan to visit. The closest beach to Dallas, Joe Pool Lake Recreation Area, is around 23 miles from the city.
Where is the prettiest beach in Texas?
The prettiest beach in Texas is arguably Malaquite Beach on Padre Island National Seashore. With its crystal clear waters, white sand, and beautiful dunes, it offers a picturesque and serene environment.
What beach in Texas has the prettiest water?
Malaquite Beach in Padre Island National Seashore boasts some of the clearest and prettiest water in Texas. The water here is crystal clear and turquoise blue, offering an amazing swimming experience.
What is the nearest White sand beach to Dallas?
The nearest white sand beach to Dallas is Little Elm Beach, which is located around 28 miles from the city.
Is South Padre Island worth visiting?
Yes, South Padre Island is worth visiting for its beautiful beaches, water sports activities, and vibrant nightlife. However, it's located approximately 508 miles from Dallas, so it might require a longer trip or an overnight stay.
Are Texas beaches swimmable?
Yes, many Texas beaches are safe for swimming. However, it's always recommended to check the current water conditions and watch out for any potential hazards.
What is the prettiest cleanest beach in Texas?
The prettiest and cleanest beach in Texas is arguably Malaquite Beach at Padre Island National Seashore. This beach is well-maintained and offers crystal clear, turquoise blue waters.
Is there white sand beaches in Texas?
Yes, there are several white sand beaches in Texas. Some of the prominent ones include Little Elm Beach and Malaquite Beach.
So, pack your beach essentials, load up the car, and get ready to hit the road for the beast beaches near Dallas. Texas is waiting for you with its sun-soaked sands and refreshing waters!
---