September 29, 2023 0 Comments Best Beaches in The World
The Best Beaches in Los Angeles
Los Angeles, fondly referred to as the City of Angels, or just as LA, just two hours north of San Diego, is a treasure trove of jaw-dropping beaches. From iconic coastal stretches to lesser-known sandy retreats, the city's shoreline offers a diverse array of seaside spots for every sun-seeker. Whether you're an adventure enthusiast, family vacationer, or a romantic soul, the best beaches near Los Angeles won't disappoint. Here is our list of the top ten best beaches in LA that promise an unforgettable beach experience.
1. Leo Carrillo State Beach: The Getaway Beach
Situated 28 miles north of Santa Monica on the Pacific Coast Highway, Leo Carrillo State Beach is a perfect getaway beach. Named after the famous actor and preservationist, Leo Carrillo, this beach extends over a mile, offering a mesmerizing canvas of rocky shores and a soft sandy beach. This secluded beach is the best beach near Los Angeles to enjoy nature walks, campfire programs, and guided nature tours. Picnic areas, RV facilities, and campsites are also available for visitors who wish to stay longer.
2. El Matador State Beach: The Hopeless Romantic's Retreat
El Matador State Beach, located about ten miles northwest of Malibu, is a paradise for photographers and nature lovers. Known for its rugged cliffs, unique rock formations, and pristine beauty, this beach offers a romantic ambiance, especially during sunset. The beach is not easily accessible for people with mobility issues, as it requires a walk down a steep pathway and a flight of stairs. However, the breathtaking views and the clear waters make the journey worth it.
3. Malibu Surfrider Beach: The Surfer's Paradise
Malibu Surfrider Beach is a dream destination for surfers. Known for its perfect point-break waves, this beach is a paradise for both beginner and professional surfers. Besides surfing, the beach also welcomes kayaking, stand-up paddleboarding, and bodyboarding.
4. Santa Monica Beach: The Classic Stretch of Sand
Santa Monica Beach is one of the most iconic beaches in LA. This beach offers over two miles of sand, making it an ideal spot for sunbathing, playing volleyball, or going for a bike ride. The beach is located just north of the historic Santa Monica Pier, adding to its popularity among tourists and locals.
5. Venice Beach: The People Watcher's Haven
Venice Beach is a must-visit for those who enjoy people-watching. Known for its bohemian-friendly vibes, the beach offers a wide array of street performers, vendors, and unique shops. Additionally, it is home to Muscle Beach, Venice Skatepark, and basketball courts, making it a vibrant and diverse spot.
6. Manhattan Beach: The Volleyballers' and Families' Delight
Manhattan Beach is an ideal spot for volleyball enthusiasts and families. The beach is always bustling with activity, especially on weekends. Besides volleyball, the beach offers a beautiful view of gorgeous waterfront homes and boutique shops.
7. Dockweiler State Beach: The Bonfire and Party Hub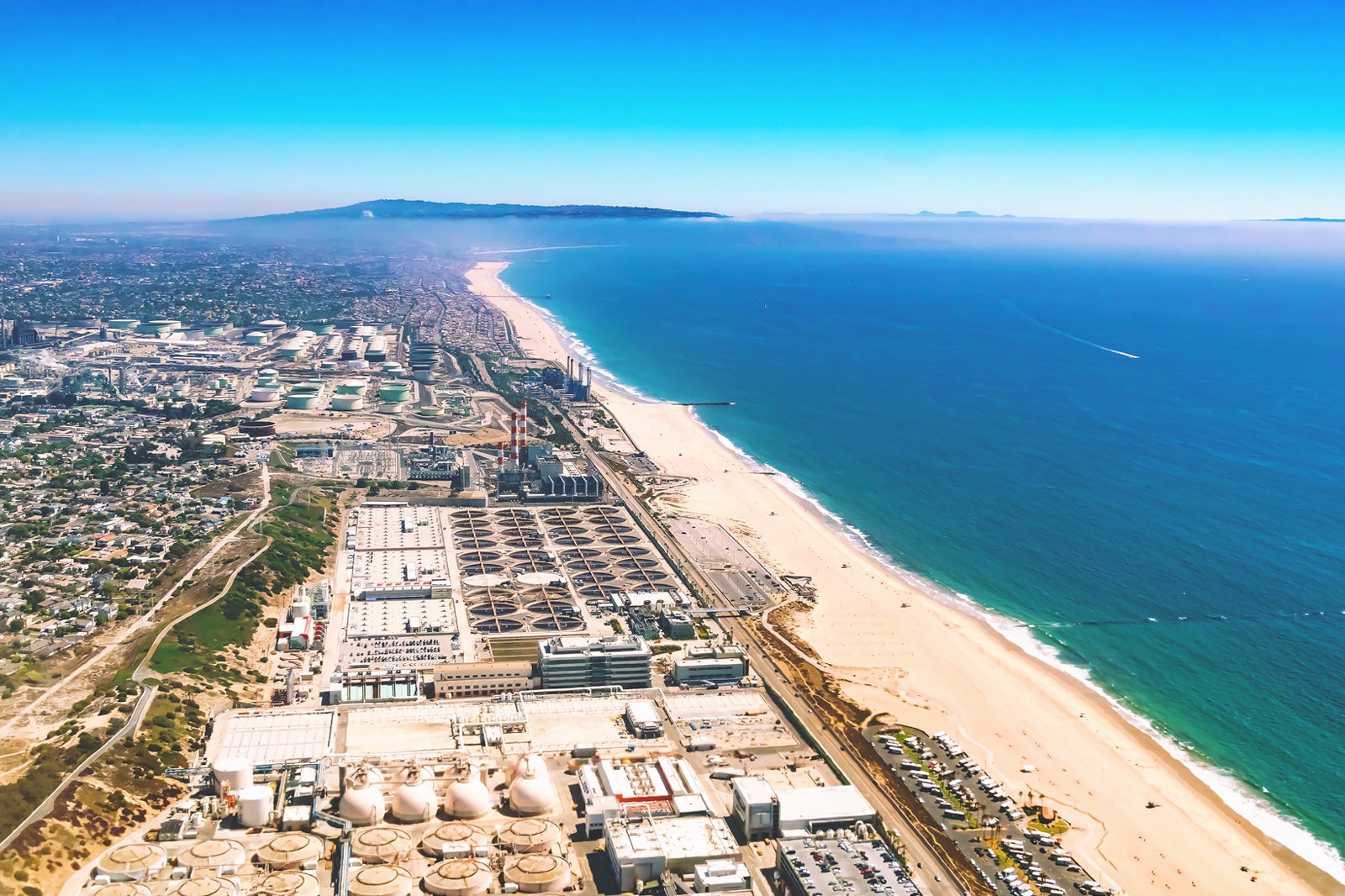 Dockweiler State Beach, located just south of LAX, is known for its lively vibe and bonfire pits. The beach comes alive at sunset, with music, bonfires, and high spirits. It is one of the few beaches in LA where you can camp at the beach, making it a unique spot for beachgoers.
8. Carbon Beach (Billionaire's Beach): The Quiet Beach
Carbon Beach, also known as Billionaire's Beach, is a secluded beach located in Malibu. Known for its tranquillity, this beach is perfect for those seeking a quiet beach day. The beach is public, although it is surrounded by the homes of the ultra-wealthy, giving it a sense of exclusivity.
9. Rosie's Dog Beach: The Dog Lovers' Paradise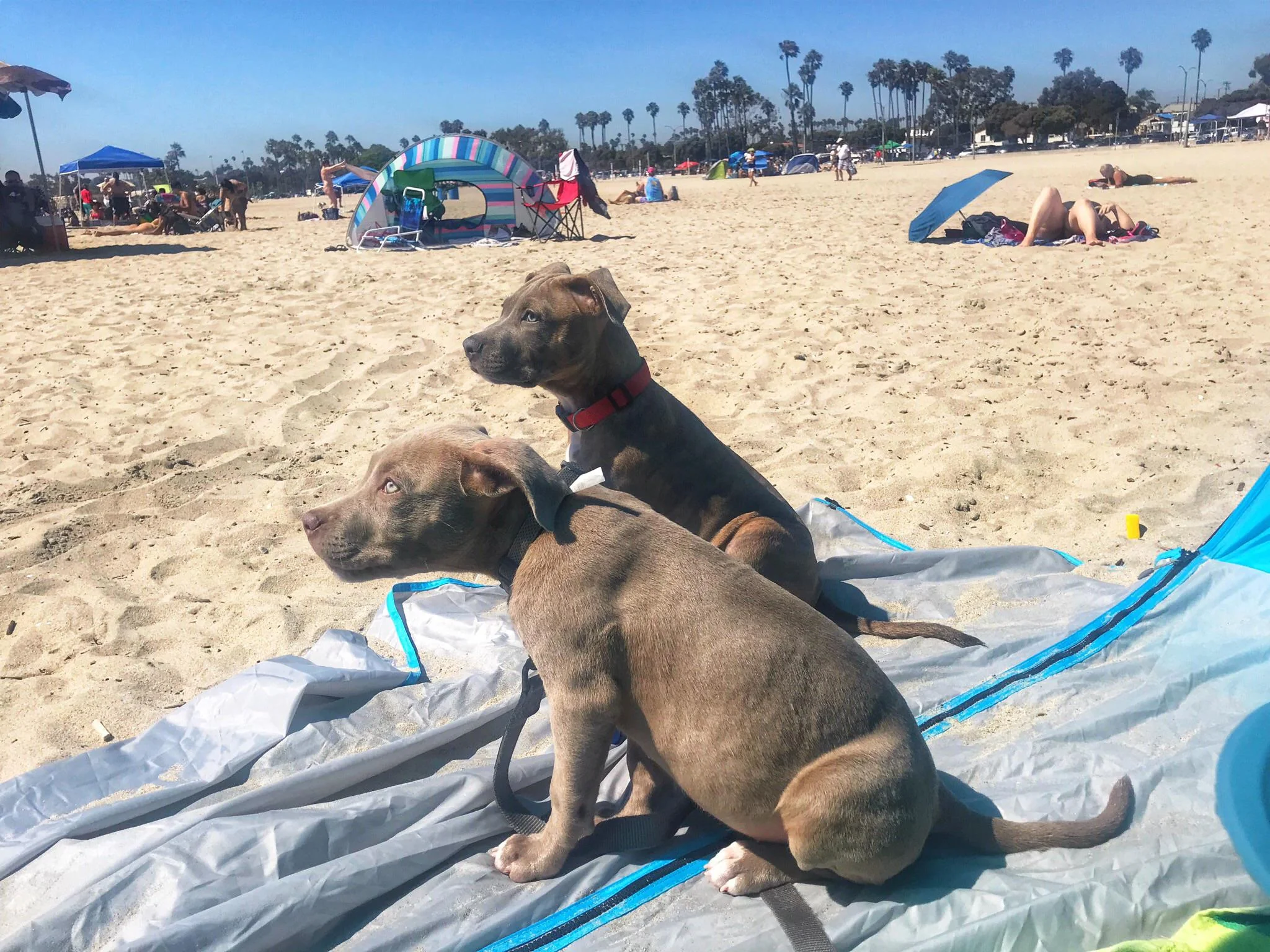 Rosie's Dog Beach, located in Long Beach, is a haven for dog owners. This beach provides a dedicated space for dogs to run around off-leash and socialize in a controlled environment.
10. Huntington City Beach: The Beach with a Vibrant Scene
Huntington City Beach, set amid a 121-acre park, is one of the most iconic beaches in the area. Known for its surf breaks, International Surfing Museum, and vibrant day and nightlife, this beach offers a variety of surf shops, restaurants, bars, local breweries, and a lovely pier.
Now that we have explored the best beaches in LA, let's answer some commonly asked questions.
What is the best beach in Los Angeles?
The best beach in Los Angeles can vary based on personal preference. If you're seeking seclusion and natural beauty, El Matador State Beach is a great choice. For a family-friendly beach with facilities and amenities, Santa Monica Beach is ideal.
Are there beaches in Los Angeles?
Yes, Los Angeles is home to several stunning beaches, ranging from the bustling Santa Monica Beach to the secluded El Matador Beach.
Which beach is cleanest in LA?
Zuma Beach in Malibu is often cited as the cleanest beach in LA due to its far north location and excellent water quality.
How close is the beach to LA?
Los Angeles is a coastal city, so the beach is very close depending on where you are in the city. For instance, Santa Monica Beach is about 16 miles from downtown LA.
Can you swim at LA beaches?
Yes, you can swim at LA beaches. However, it's essential to swim in designated areas where lifeguards are present, as ocean currents can be strong.
Can you swim at Venice Beach?
Yes, swimming is permitted at Venice Beach. However, as with all beaches, it's crucial to swim in areas with lifeguard supervision.
Are beaches free in LA?
Yes, all beaches in LA are free to access. However, some beaches may charge for parking.
Is it safe to swim in LA?
Yes, it is generally safe to swim in LA. However, it's important to follow safety guidelines, swim in designated areas, and pay attention to lifeguard warnings.
Is Malibu or Santa Monica better?
Both Malibu and Santa Monica offer unique beach experiences. Malibu is known for its natural beauty and seclusion, while Santa Monica offers a bustling beach experience with plenty of amenities and attractions.
Is Santa Monica safe to swim?
Yes, Santa Monica is safe to swim. The beach is regularly patrolled by lifeguards, and swimming areas are clearly marked.
Can I swim in Malibu?
Yes, you can swim in Malibu. However, due to strong currents and waves, it's crucial to swim in designated areas and heed lifeguard instructions.
Does LA have nice beaches?
Yes, Los Angeles is renowned for its stunning beaches, each offering unique characteristics, from the bustling Venice Beach to the serene El Matador Beach.
With sunshine throughout the year, Los Angeles is an ideal destination for beach lovers. The best beaches in LA are as diverse as its residents, offering something for everyone, whether you're searching for a quiet retreat or a bustling beach scene. So pack your sunscreen, beach towel, and sunglasses, and prepare to soak up the quintessential Southern California beach experience in LA.
---