January 17, 2020 0 Comments Best Beaches in The World, Destinations
Tamarindo Beach: Highlight of Guanacaste Region in Costa Rica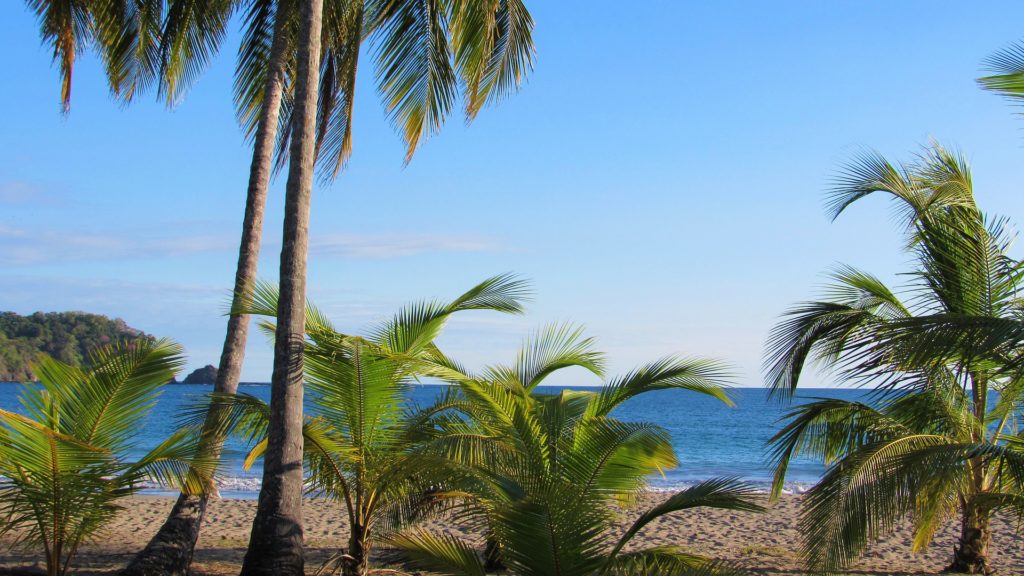 Located at the top of Costa Rica's Nicoya Peninsula in Guanacaste Province on the country's Pacific Ocean coastline, Tamarindo Beach is a popular destination with surfers and yoga lovers among others. Just an hour by road from the international airport at Liberia, Tamarindo also boasts a whole host of other activities with which to explore the best of this stretch of Costa Rica's coastline, from horse-riding to scuba diving.
Best time to visit Tamarindo Beach
If you are planning a Costa Rica tour, the best time to visit Tamarindo Beach when it comes to weather is between December and the end of April, when Costa Rica's Pacific coast is enjoying its dry season. This is also the region's high season when hiking and snorkeling conditions are at their best. Between October and March each year, there is the added bonus of catching sight of leatherback turtles coming to nest on the area's beaches.
The low season lasts from May/June to November, and is characterized by rain showers, although these rarely stop any activities from taking place. Anyone coming to Tamarindo Beach for surfing will find the best breaks between the beginning of June and end of October, with the Surf 'n' Turf charity surfing and golfing tournament taking place in August.
The shoulder seasons of November to early December and May until August are also a great time to visit Tamarindo Beach, since temperatures are a little lower than peak season and the area quieter too, should that be your preference.
A trip to Tamarindo Beach can be added to any trip to Costa Rica, no matter the length of stay. Whether you plan a Costa Rica itinerary for 7 days or up to 14 days or more, Tamarindo would serve as the destination to relax and unwind during your active holiday.
Things to do in Tamarindo Beach
What impresses many visitors to Tamarindo Beach is the sheer number of activities and things to do in the area. Here are our favorite things to do in Tamarindo Beach.
Surf Tamarindo's famed waves
The waters off Tamarindo's white sand beach offer the sorts of gentle incoming waves that are perfect for those looking to jump onto a surf board for the first time, and there are plenty of surf schools offering lessons. However, for anyone with previous surfing experience, Tamarindo Beach also has a couple of great breaks – Pico Pequeño and El Estero – while a short drive away you'll find further popular spots at Playa Negra and Playa Grande.
Sail the Pacific blue
Tamarindo's boat captains know all the top places to snorkel, and sandy coves in which to relax. Boat trips are easy to come across, with a variety of half-day, full-day, and magical sunset cruises to choose between. There are some simply amazing yachts and schooners available to rent, offering trips to the likes of the small offshore island known as Witch's Rock as well as monthly full moon dining sailings too.
Relax in body and mind with a yoga session
In addition to its wide range of water-based sports, Tamarindo Beach also has an excellent international reputation as a destination for yoga retreats. As a result, there are several schools and fitness centers providing classes led by experienced instructors, whether this will be your first time in downward dog, or whether you have years of experience on the yoga mat. You don't have to stay trapped in a stuffy gym hall either, with regular sessions taking place on the beach itself to make the most of this incredible natural backdrop.
Zipline through the jungle
With the rainforest slipping right down to the edges of Tamarindo Beach, it would be a real shame to not explore this extraordinary environment while visiting the area. Thanks to a number of canopy zipline tours, this no longer means trekking across the jungle floor for hours on end. Instead, visitors can get an incredible insight into the jungle and an adrenaline rush at the same time by ziplining between the trees. Keep an eye out for the region's colorful bird species, lizards, monkeys, and maybe even an armadillo or two!
Enjoy a tour of Tamarindo Beach and beyond
An alternative way of exploring the surrounds of Tamarindo Beach is on the back of either a horse – or even an all-terrain vehicle (ATV). Options include a gentle drive along the beaches 3.5-kilometer length, to full-day adventures on the bridle paths of the area led by expert guides. Heading into the jungle with a patient and well-trained horse allows visitors to reach points otherwise almost inaccessible, taking in hills, mountains, and incredible panoramic views of the ocean along the way.
Join a nighttime turtle tour
From October until March the beaches around Tamarindo are visited nightly by sea turtles returning to the sands on which they were themselves born to lay their own eggs. Including black turtles and the highly-endangered leatherback turtle, tours allow small groups to get up close to these incredible animals while being careful not to affect them in any way. Tours use infrared lights to scour the beaches for incoming mother turtles and those digging the pits in which they deposit their table tennis ball-like eggs.
Have your muscled soothed with a massage
Fancy relaxing on a massage bed with the sound of the ocean in the background? That's not a problem in Tamarindo, where spas offer a variety of massage treatments, in addition to facials, scrubs, manicures and pedicures, all performed by trained professionals.
Go white water rafting
Tamarindo Beach also offers visitors the chance to get wet white water rafting over the class III and IV rapids of the Tenorio River. Heading down a 20-kilometer stretch of the river that has more than 20 individual roaring rapids, white water rafting is another chance to get the adrenaline flowing, while encountering some of the regions most impressive landscapes, flora, and fauna. Alternatively, you can head for the slightly calmer class II rapids of an eight-kilometer section of the Colorado River!
As you will have discovered, Costa Rica's Tamarindo Beach is an area brimming with health and fitness activities. Combining yoga and massage with surfing, conservation, adrenaline sports, and its beautiful Pacific location, Tamarindo really does have it all!
---